Disneyland's Club 33: The Fascinating History Of Walt Disney's Exclusive Lounge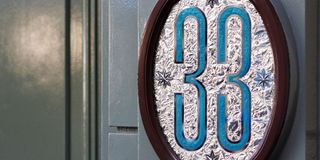 While it's basically impossible to spend a day at a park like Disneyland without standing in your share of lines, given enough patience, there's very little in the park that you can't do. Getting a reservation at the Blue Bayou or a spot in the virtual queue for Rise of the Resistance is tough, but everybody at least has a chance. However, there's one place at Disneyland that most people have very little chance of ever seeing: Club 33.
It's the most exclusive location in Disneyland, not just because membership is quite expensive, but the wait list is long, so even having the money doesn't guarantee you entry. And while most at least know the name Club 33, few know the story of why it exists at all or how it became the bucket list item for so many Disneyland fans.
Walt Disney And The 1964 World's Fair
The story of Club 33 starts in the early 1960s, years before it would actually exist. New York was planning a World's Fair for 1964, and Walt Disney saw a huge opportunity in the event. Major corporations and other entities were wanting to build major showcases for the fair to promote themselves. Walt could hire out his fledgling Imagineers to design attractions for those companies. WED Enterprises, the name of the division at the time, would get to come up with new ideas and design new technologies, which could then be used at Disneyland, and the different companies would be the ones paying for everything. It was a win-win for Walt.
It's hard to imagine even Walt Disney was prepared for the good fortune that the 1964 World's Fair would bring him. WED Enterprises would be hired to design four different attractions that would eventually become part of Disneyland in different ways. For the state of Illinois, Disney would create Great Moments with Mr. Lincoln, the first full size-standing human animatronic, the beginning of a technology that is still used today. For the UNICEF pavilion, which was in partnership with Pepsi, WED Enterprises would create It's a Small World, the attraction, and its associated song, that people either love or love to hate. It's as iconic as anything at Disneyland.
For the Ford Motor Company, it designed Ford's Magic Skyway. While this was the only attraction that wouldn't end up back at Disneyland in its entirety, the animatronic dinosaur diorama would get added to the Disneyland Railroad, and the technology behind the ride system would inspire the PeopleMover attraction.
The fourth attraction was the Carousel of Progress, designed for General Electric. Like Mr. Lincoln and It's a Small World, that attraction would move to Disneyland after the World's Fair was over, but the attraction itself wasn't the only part that would come to the West Coast.
A Dry Disneyland
From the earliest days of Disneyland, and still today, the Disney Parks like to get corporate sponsors for some of the attractions. The sponsorship helps off set the cost of construction and maintenance, and the company gets its name associated with a popular tourist destination. In the case of the different World's Fair attractions, Walt wanted to get the corporations that had sponsored the original attractions to sponsor them at Disneyland as well. General Electric was willing, but the company didn't just want the animatronic show in the park; it wanted the VIP lounge that was also installed to come with it.
The problem with that was there was no alcohol at Disneyland. While Walt Disney had no personal problem with alcohol on principle (he drank himself), the lack of adult beverages at Disneyland was a core concept of the park. Walt didn't want adults getting drunk and rowdy. He though people drinking too much was a major part of the problem with the carnivals and other amusements that pre-dated his park, and the lack of drinking was one way his park would distinguish itself, as well as encourage parents and children to enjoy Disneyland together.
The compromise Walt made was that he agreed to build the lounge, but rather than placing it near the Carousel of Progress or other attractions, it was made part of the then-under construction New Orleans Square. Club 33 is behind a nondescript door and it's easy enough for the average guest to walk right by without even realizing it's there.
What Is Club 33?
Club 33 opened in 1967 and has been a members-only location ever since. Currently the club is located above Pirates of the Caribbean, next door to the space that was meant to be Walt Disney's private apartment, which is now 21 Royal. The name of the club actually has several stories describing where it came from, but the official one is simply that it is located at 33 Orleans Street in New Orleans Square.
Club 33 isn't cheap. While Disneyland doesn't publicly discuss what it costs, reports are than an individual membership can cost $25,000, with yearly membership dues of $12,000. Corporate memberships are also available for a reported $40,000. Simply being able to buy a new car every year isn't enough, however, as there is currently a wait list, with the number of memberships being limited.
One does, reportedly, get more for their money than just the freedom to buy a drink or a meal at Club 33. In addition to getting an Annual Passport for themselves, a number of complementary passes are given to the member every year, which can be given to friends or family. A number of FastPass tickets, which can used instantly on any attraction, are also included for every visit. A number of other perks are apparently attached, including the ability to ride on the Disneyland Railroad in the Lily Belle car, which is not available to the public, as well as to ride the Mark Twain Riverboat from the Pilot House.
Club 33 members can also make reservations at the Club for non-members, which means that if you know somebody who is a member, you can still dine at Club 33 as long as you're really nice to them.
Club 33 Around the World
The success and popularity of Club 33 has resulted in similar locations being built at other Disney Parks as well. There are Club 33 locations at Tokyo and Shanghai Disneyland, as well as Magic Kingdom in Florida. There's also a similar location with 1901 Lounge at Disney California Adventure. Club 33 members at Disneyland get access to the DCA location, but memberships don't transfer to the Club 33 locations at other parks. You'd need to get a separate membership at each to visit all the Club 33 locations.
Club 33 is an almost mythic location at this point. Many Disneyland fans dream of visiting and eating a meal there, and while doing so certainly isn't impossible, it's still unlikely. Since the opening of Oga's Cantina at Star Wars' Galaxy's Edge, there is one place where the general public can get an alcoholic beverage at Disneyland, so if that's the only reason you would want to go, it's no longer necessary.
But of course, for the rest of us the real appeal is just that Club 33 is a place that we haven't been, and so want to go there. If anybody has a hook up, let me know.
Content Producer/Theme Park Beat
CinemaBlend's resident theme park junkie and amateur Disney historian. Armchair Imagineer. Epcot Stan. Future Club 33 Member.
Your Daily Blend of Entertainment News
Thank you for signing up to CinemaBlend. You will receive a verification email shortly.
There was a problem. Please refresh the page and try again.