Terminator 2 Deepfake Makes Bill Hader The Iconic Villain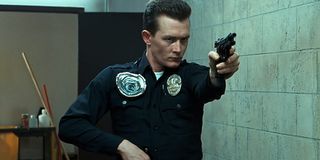 In this era of deepfakes, where clever editors can replace someone's face on a movie with someone else (you know, like a digital version of Face/Off), we've gotten a slew of movies reimagined with other actors' faces. In this case, we're now given a deepfake of Terminator 2: Judgement Day with Bill Hader filling in as its iconic villain, the T-1000.
You might recall in the beginning of Terminator 2 that the T-1000 is pretending to be a police officer and hunting down John Connor, played by Edward Furlong. Eventually he catches up with Connor and has a pretty heart-pounding chase scene in the process. Now, Ctrl Shift Face posted the deepfake of Bill Hader as T-1000 in these scenes on their YouTube Channel. Check it out:
In this new reimagining, it's crazy uncanny how Bill Hader of SNL fame works well in the role of the T-1000, a character originally played by Robert Patrick. Still, though the deepfake technology is seamless, it's hard to imagine any other actor playing the T-1000 other than Patrick. For his part, Patrick has said he would be game to return to the Terminator franchise if he was asked to come back.
However, since the release of Terminator 2, it's pretty safe to say the Terminator franchise has been mired by one disappointment after the other, whether critically or at the box office. While the latest installment, Terminator: Dark Fate, received mostly favorable reviews, it also ended up being the worst box office performer after Terminator 2. So it's hard to say if Robert Patrick would even have a chance to return at all.
The Terminator franchises future also weighs in the balance of a copyright deal made 35 years ago with Gale Anne Hurd. It was reported last year that Gale Anne Hurd terminated the copyright deal with Skydance which, if not renegotiated, would make it impossible for the company to continue making more Terminator movies.
That's not to say the creators, including James Cameron, don't want to continue making more Terminator movies. For James Cameron, Terminator: Dark Fate was mean to set up several sequels where they could explore new ideas between humanity and artificial intelligence.
Regardless of their intentions for more sequels, with the fate of Terminator uncertain, we may have to settle for deepfakes from now on to see how other actors might look in a Terminator movie.
Even if Bill Hader didn't play the T-1000, I'd say he still looks like a solid candidate to play a killing machine in a Terminator movie. After all, he already has some experience with assassinations on his HBO show Barry. He could easily pull off the action scenes, and we all know he can do different voices if needed.
Your Daily Blend of Entertainment News