Chris Pratt Is Indiana Jones In Epic Deepfake, And Now I Want It To Be Real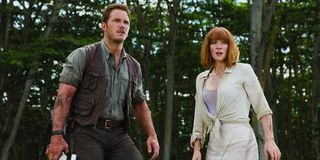 Chris Pratt's rise to stardom as Star-Lord in Guardians of the Galaxy really opened up the action hero role for the actor. From there, he took on the Jurassic World role of Owen Grady, a raptor trainer and motorcycle enthusiast that seems oddly similar to another favorite movie hero—Indiana Jones. Fans have always wondered if Chris Pratt would play Indiana Jones. Now they don't have to wait. Well... in a way.
The rise of the deepfake, where a person's image is replaced by someone else in a video, has given fans the ability to have a greater picture of what could be. We've previously seen Robert Downey Jr. and Tom Holland in Back to the Future, as well as a rendering Robert Pattison's Batman. Now, a fan took to social media to see what it would be like if Chris Pratt were Indiana Jones. Check it out:
Wow. First off, Chris Pratt's likeness to Harrison Ford is uncanny. Their voices obviously don't match up at all, but the overall appearance looks on point. No one can ever replace Harrison Ford as Indiana Jones, at the same time, I kinda want this to be real now.
This isn't the first time we've heard about Chris Pratt being tied to the role of Indiana Jones. Back in 2015, reports spread that he was being eyed to play the character. There were even reports that Steven Spielberg would direct if the script was good, but of course, nothing came of it.
Indiana Jones 5's journey has been in production purgatory since 2009, shortly after the release of Indiana Jones and the Kingdom of the Crystal Skull. It's been over ten years of waiting for the fans. Although the limited information that we've learned indicates there's a script, and Harrison Ford is still planning to play Indiana Jones.
Earlier this year, however, it was announced that Steven Spielberg, the original and only director of the franchise, was stepping away from the project and his successor was already being eyed. It's believed James Mangold, director of Ford v Ferrari and Logan, could helm the project, instead.
This all leads back to whether or not Harrison Ford will stay connected to the project with Steven Spielberg out. It's hard to believe he would actually walk away from the character. Harrison Ford has a strong connection with Indiana Jones. When asked who he would like to see play Indiana Jones, he said:
It's hard to believe it would be that easy, especially since Disney now owns the character and likely wants to continue to make money on the property. With Spielberg out, it makes you wonder if Disney and Lucasfilm will take another look at Chris Pratt to play the iconic role.
Your Daily Blend of Entertainment News
Your Daily Blend of Entertainment News
Thank you for signing up to CinemaBlend. You will receive a verification email shortly.
There was a problem. Please refresh the page and try again.