The 10 Best Elisabeth Moss Movies, Ranked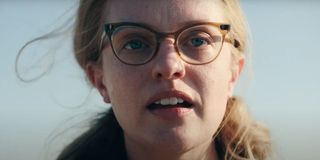 Earlier this month, Hulu released Shirley onto their streaming service. The biographical drama based on the life of novelist Shirley Jackson proved to be yet another critical darling for Elisabeth Moss, an actress who has only continues to prove herself — especially of late — with a number of daring and impressive performances. While she might be best known for her TV work, including Mad Men and The Handmaid's Tale, Moss has several noteworthy film credits to her name, from indie darlings to mainstream hits. With that said, let's rank the ten best Elisabeth Moss movies to date, including Shirley!
10. Girl, Interrupted (1999)
While Girl, Interrupted wasn't Elisabeth Moss' first professional acting credit, as she had gained nearly ten years of acting experience prior to this film, it was certainly one of her first stand-out roles. As Polly "Torch" Clark, a burn victim who claims she started the fire herself, the prominent role was childlike in nature, but it conveys layers of nuance and introspection that audiences would come to expect from the actress in the not-too-distant future. Though she doesn't get as much screen-time as Winona Ryder or Angelina Jolie, who won an Oscar for this adaptation of a Susanna Kaysen memoir, it was a huge stepping stone for Moss, one that helped pave the way for her extraordinary career in several celebrated films and prominent TV shows.
9. Listen Up, Philip (2014)
In the film that would foster a vibrant and fruitful working relationship with writer/director Alex Ross Perry, 2014's novelistic Listen Up, Philip centers on Jason Schwartzman's prickly title protagonist, an acclaimed-but-difficult young writer waiting for the publication of his second book, but it's ultimately Elisabeth Moss' performance as photographer Ashley, Philip's partner, that helps the movie find its beating heart. She handles Perry's crackling writing with ease and grace, providing a richly-crafted character to bounce off this troublesome lead.
While Ashley isn't without fault, Moss brings a present and sparkling humanity to her role, preventing the movie from ever being too ironic or detached for its own personal well-being. It's clear why he would continue to work with her for two of his later, better movies. While the film itself focuses on a shaky relationship, the working one between Perry and Moss is electrifying.
8. Queen Of Earth (2015)
In their second project together, Elisabeth Moss and Alex Ross Perry continued their working relationship — one reminiscent of Gena Rowlands and John Cassavetes' earlier collaborations — in 2015's Queen of Earth, an intensely claustrophobic drama-thriller also starring Katherine Waterston. As Catherine Hewitt, a woman unraveling upon her father's death and the dissolve of her relationship, Moss is shown on the brink of personal and mental collapse, diving ever deeper into unsettled waters. It's a striking, unnerving performance, as you'd imagine.
Inside this primarily two-hander movie, Moss is great at communicating the fractured friendship she shares with her lifelong friend. As the retreat becomes even less of a vacation, Moss only continues to prove her incredible acting chops in this bold, fearless performance. For as good as Moss is in this particularly unsettling film, though, her best work with Perry was still yet to come.
7. Meadowland (2015)
It's every parent's nightmare. On a road trip, parents Sarah (Olivia Wilde) and Phil (Luke Wilson) make a quick visit to a gas station, only for their young son to vanish inexplicably over the course of a few short minutes. In the aftermath of this unimaginably terrifying incident, Sarah and Phil must weather the storm of sorrow and torment that ensues. The more time passes, the more Sarah begins to unravel.
While the material is dour and verging on one-note in its grim view of grief, the nuanced, authentic performances from Meadowland's talented cast keeps us enthralled and emotionally wrenched. The quiet, assured filmmaking allows the pathos to hit harder and run deeper as the film progresses, making every dramatic moment weighed and remorseful. While Elisabeth Moss doesn't get as much screen-time as her co-stars, her supporting turn is a standout — even in this talented ensemble.
6. The One I Love (2014)
Partnered with executive producer Mark Duplass, Elisabeth Moss provides one of her most dynamic, challenging performances in 2014's The One I Love, Charlie McDowell's assured feature directorial debut. In this inventive domestic thriller-drama, Moss plays Sophie, a frustrated woman inside a discontent marriage with Ethan (Duplass), with whom she takes a weekend retreat to a secluded estate. Once they settle into the weekend destination, however, it's apparent that there's something odd about this therapeutic locale. To spoil more would be a sin.
This intriguing, thoughtful drama tackles the complexities and intricacies of a fractured marriage from a curiously unique perspective, providing an ambitious, adventurous take on love and commitment. Aiding the film immensely, though, are the lead performances, most notably from Moss. The smart, expressive manner through which the actress demonstrates her character's evolution and discovery showcases the full range of her impressive talents.
5. The Invisible Man (2020)
In this clever, effective retelling/re-imagining of H.G. Wells' classic 1897 novel of the same name, The Invisible Man follows Elisabeth Moss as Cecilia Kess, a woman trapped in a controlling, abusive marriage with an engineer mastermind. Late one night, she flees the estate and barely escapes, and later discovers that her husband suddenly committed suicide. Or has he? Soon, strange paranormal activity happens around her, and this mysteriously mystic force keeps an invisible eye over her at seemingly every waking hour, causing havoc at a relentless pace.
By changing our central perspective of the classic text, The Invisible Man (2020) provides a fresh, constantly thrilling, and deeply unsettling take on this familiar story, allowing audiences to experience the constant fear and ceaseless trauma of our tormented lead, with Moss giving another extraordinary performance. She never makes this supernatural entity seem anything less than urgent and terrifying.
4. The Square (2017)
In writer/director Ruben Ostlund's Palme d'Or-winning follow-up to 2014's excellent Force Majeure, The Square is a scathing and deeply satirical look at the art world, focused on Christian (Claes Bang), an art curator who struggles balancing the various complications and woes related to — and away from — his high-strung exhibition.
In a supporting role, Elisabeth Moss plays Anne, a journalist with whom our central curator forms an affair. What might've been a lesser role in a weaker actress' hands sparkles with wit and comedic precision with Moss' assured performance, providing depths to the movie's biting commentary. While the movie's approach can be unwieldy, The Square's sprawling, outrageous approach paves the way for more standout moments for its varied and talented cast, including Moss. Her smart, commendable performance is a highlight in this acclaimed Swedish film.
3. Shirley (2020)
As the reclusive, elusive Shirley Jackson, a prolific but private novelist of The Haunting of Hill House, as well the short story "The Lottery," Elisabeth Moss was presented with a compelling challenge. How do you respect the legacy of an author both revered and reserved, influential-yet-isolated? While the writing process is well-explored territory, it's far from the easiest profession to bring to life in a richly cinematic fashion.
In this inspired, invigorating look at this celebrated author, director Josephine Decker largely ignores the expectations of traditional biopics to present an intimate, intelligent look at a small fraction of Jackson's life. We watch as Jackson puts together her second novel, Hangsaman, which doesn't become the novel she's known for, but the process through which it's written informs us of the method to this bewitching writer's gothic madness. As Jackson, Moss produces one of her most revolutionary performances.
2. Us (2019)
In writer/director Jordan Peele's astounding sophomore feature, Us, we follow Adelaide Wilson (Lupita Nyong'o) and her Santa Cruz-bound family (Winston Duke, Shahadi Wright Joseph, Evan Alex) who, late one night, are attacked by a mysterious group of doppelgangers. It's certainly a creepy and compelling premise for an inventive horror movie, and in a prominent supporting turn, Elisabeth Moss plays Kitty Tyler, the wife and mother within another family of four who are visited by their own doppelgangers — though they aren't so lucky.
Similar to The One I Love, Moss plays variations of this character, showcasing the astonishing range of her acting talents. The starkly haunting contradiction of her doppelganger is startling and striking, and it further showcases the incredible acting capabilities of this commendable talent. While Moss' role in Us is limited, it's safe to say she makes the most of this appearance.
1. Her Smell (2019)
In what's surely among the most impressive and (ironically) intoxicating performances of her early career, Elisabeth Moss plays Becky Something, a fading rock star hindered by her alcohol dependencies and other self-destructive behavior, in Her Smell, her third, finest collaboration with Alex Ross Perry. While the film captures the continuously swirling, even at times sickening decline of its troubled lead with unnerving effectiveness, it's Moss' fearless, undaunted performance that holds this together.
Stripping away any glory or vanity that might arise from living the rock 'n' roll lifestyle, Moss' Becky is a visceral, incredible accomplishment, displaying the depths of Becky's depravity and the layers to her unraveling with brutal, unflinching dedication. It's an astonishing, mesmerizing performance, making what would otherwise be challenging material constantly riveting in its depressing engrossment. While Moss only continues to prove herself as a performer, this performance stands as her biggest triumph.
In addition to these outstanding performances from Elisabeth Moss, we should also provide a few honorable mentions, including Truth, High Rise, The Old Man & The Gun, The Seagull, Chuck, On the Road, and Get Him To The Greek — all of which didn't make the cut for various reasons, but shouldn't be dismissed. Additionally, while last year's The Kitchen was a rare miss for the Emmy-winning actress, that movie's faults were never her own. Indeed, her performance there was just as good as nearly every one on this list. Unfortunately, the rest of the movie didn't compare otherwise. But what do you think? What are your favorite Elisabeth Moss performances? Let us know in the comment section below!
Will is an entertainment writer based in Pittsburgh, PA. His writing can also be found in The Playlist, Cut Print Film, We Got This Covered, The Young Folks, Slate and other outlets. He also co-hosts the weekly film/TV podcast Cinemaholics with Jon Negroni and he likes to think he's a professional Garfield enthusiast.
Your Daily Blend of Entertainment News
Thank you for signing up to CinemaBlend. You will receive a verification email shortly.
There was a problem. Please refresh the page and try again.