Universal Studios Reopened In Time For 30th Anniversary, But Is Everyone Wearing Masks?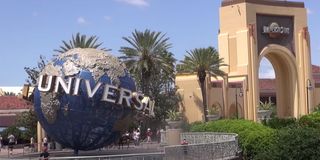 On June 7, 1990 Universal Studios Florida opened its doors to the public. A lot of updates and changes have been made to the theme park over the years, including the addition of Islands of Adventure (which opened in 1999) and later a slew of Harry Potter-themed adventures. Regardless, most recently the park has been notable for being the first big domestic park to re-open its doors in Florida while the coronavirus is still a worldwide problem, beating competitors like Disney and SeaWorld to the punch.
It's weird to think this momentous anniversary is happening during such a troubling time, but despite being early, the parks took time to figure out guidelines for reopening. This includes requiring all guests and team members to wear masks (except for during certain circumstances and in certain areas). Temperature checks occur when entering the parks and guests musk sanitize their hands before getting on rides. Other changes have been outlined by Universal Studios as well.
Prior to opening, Universal Studio has already previously released the blunt warning that people attending the parks could be subject to Covid-19 exposure should they get out and about and on attractions such as the parks' popular The Incredible Hulk Coaster. Here's what the parks said previously:
At least one person on social media has spent time pointing out people not wearing masks or using best practice with social distancing guidelines while in Universal Studios Florida as the parks reopened in time for the big 3-0. In fact, Universal Studios does have new rules that you must wear a mask in park, but you are allowed to take it off for certain rides, eating and at U-Rest Areas. The latter are seating areas designed to offer people a spaced out break in the open air, sans mask.
Although it seems as if some people are not being cautious with the masks, others report people do seem to be following the rules. Previous looks at preview days have shown people wearing masks while in queues and more in the parks. One Attractions Magazine blogger wrote about what it was like to wear a mask for 12+ hours in the park, while journalist Simon Veness told The Sun the parks' new rules were operating effectively, noting,
He also relayed that if you enter at opening time, there have been crowds seen, which has been noted on social media. Later, once into the parks had opened and people spread out, he felt "things were relatively subdued."
Meanwhile, it was a bit of a surprise when Universal Studios Florida announced it would be coming back in June. While I'm not saying the 30th anniversary celebration necessarily prompted the early reopening (in fact the official accounts for the parks aren't harping on the anniversary number all that much). Still, this added anniversary information certainly makes sense in terms of why the parks would want to get back open and get people in to celebrate the milestone year, even if it is in a more limited capacity. Narratives like the one below are certainly not bad press for a theme park and it would have been sad (albeit understandable) if this milestone had occurred when the parks were still dark.
Meanwhile, after Universal Studios' big and splashy early opening, other theme parks in Florida are figuring out ways to open safely and effectively for their guests. Places like Walt Disney World and more have plans for reopening and we'll have to wait and see how different parks' plans vary. Meanwhile, Disney has stormtroopers on retainer to handle some of the crowd control issues, so it should be interesting to see what different tacts companies take.
Reality TV fan with a pinch of Disney fairy dust thrown in. Theme park junkie. If you've created a rom-com I've probably watched it.
Your Daily Blend of Entertainment News
Thank you for signing up to CinemaBlend. You will receive a verification email shortly.
There was a problem. Please refresh the page and try again.