Spider-Man: Into The Spider-Verse's Hailee Steinfeld Addresses Female-Led Spinoff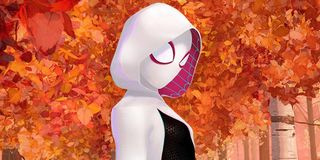 About a month before the release of Spider-Man: Into the Spider-Verse, it was announced that Sony already had a sequel and a spinoff planned. Now with the success of Spider-Man: Into the Spider-Verse, we might end up getting thirty sequels and who knows what else. Still, information has been sparse about the female-led spinoff that's been assumed to be led by Spider-Gwen, voiced by Hailee Steinfeld.
Hailee Steinfeld's career was jettisoned, thanks to her knockout performance in True Grit. Since then, she's been in a number of big projects, like Dickinson and Spider-Man: Into the Spider-Verse. Steinfeld recently spoke about these projects and was asked if a female-centric spinoff for Into the Spider-Verse is being talked about at all. Here's what she had to say:
This kind of pours a splash of cold water on Spidey fans hoping the spinoff project was further along. Early reports indicated that Lauren Montgomery, who co-directed Superman/Batman: Apocalypse and Justice League: Doom, was helming the project, with Bek Smith writing the script. But perhaps they just haven't gotten to the point in which they need to bring Hailee Steinfeld into conversation. During her conversation with ET, the actress later added:
As many know by now, most movies in production have been put on hold due to recent events, causing their release dates to be pushed back. In the Spider-Verse, both Tom Holland's third Spider-Man movie and Spider-Man: Into the Spider-Verse 2 have had their releases dates pushed back to November 5, 2021 and October 7, 2022, respectively.
Even though things have been quiet and not even Hailee Steinfeld knows the projects status, I'd say chances are still pretty high that the Spider-Verse spinoff will happen one way or another. 2018 was a huge year for Sony's Spider-Man universe and they already have big plans for other Spidey characters, like Venom and Morbius. It would be a bit of a shock if the studio didn't fully capitalize on the success of Spider-Man: Into the Spider-Verse.
As for Hailee Steinfeld, this might not be her last foray into the Marvel Universe. There's a good chance she'll be back for Spider-Man: Into the Spider-Verse 2 as Spider-Gwen, though that hasn't been confirmed. Rumors also circulated last year that she might be playing Kate Bishop in Disney+'s Hawkeye. For those who don't know, Kate Bishop takes over as Hawkeye, meaning Jeremy Renner could possibly be passing the torch and making her the MCU's new resident archer. As always we'll keep you updated with the latest news updates.
Your Daily Blend of Entertainment News
Thank you for signing up to CinemaBlend. You will receive a verification email shortly.
There was a problem. Please refresh the page and try again.