Is Adam Sandler's Best Co-Star Jennifer Aniston Or Drew Barrymore? The Internet Has Thoughts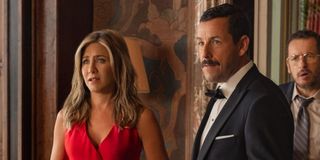 For as long as there have been movies, there have been pairings that have been so popular with fans that we seen them reunited again and again. From Hepburn and Tracy to Ginger Rogers and Fred Astaire to Doris Day and Rock Hudson, there have been some undeniably great on screen pairs. While I'm not sure any modern combo quite reaches those levels of greatness, we have seen some recent pairs appear multiple times over the years that have been pretty great, like Adam Sandler and Drew Barrymore. Or is it Adam Sandler and Jennifer Aniston? The internet cannot decide.
Over the weekend, one fan sent out a tweet that was probably not meant to get quite the response that it did, that Adam Sandler and Jennifer Aniston were the best movie duo. While this certainly set off a lot of people who felt there were other movie duos that were clearly superior, the more interesting argument has been among those who feel Jenifer Aniston isn't even the best big screen pairing for Adam Sandler, as there's an actress named Drew Barrymore who needs her proper due.
Some People Are Pro Jen
The initial tweet that launched the entire conversion is clearly in the Sandler/Aniston camp. The pair first made Just Go With It in 2011 and then followed it up with Netflix's Murder Mystery last year, which has now spawned plans for a sequel. It's certainly clear that Jennifer Aniston and Adam Sandler love working together, and there are certainly people that also love watching them together.
However, while there are certainly people that love Sandler/Aniston (Saniston?) it has to be said that the most popular responses on Twitter are pushing back against this pair as the superior one.
Some People Are Pro Drew
While Adam Sandler and Jennifer Aniston have plans to make a third movie together, Sandler and Drew Barrymore have already made three films together. And yes, one of those movies is Blended, and the less said of that the better, but the other two are 50 First Dates and The Wedding Singer, and if nothing else, it seems clear that those two movies are being viewed as better films, and thus the Sandler/Barrymore pairing is getting more love.
Of course, regardless of whether you think that Jennifer Ansion or Drew Barrymore is the better pairing for Adam Sandler, there are those who want to use this opportunity to suggest a third option.
Some People Want Someone Entirely Different
If both these stars work well with Adam Sandler, then perhaps its time to get them in a movie together. Clearly whatever spark the two have with the actor they could likely find as easily between themselves.
And then there are the people, the vast majority to be sure, who think the best movie duo doesn't include Adam Sandler at all. A number of other great duos are suggested, from modern pairings like Will Ferrell and John C Reilly or Simon Pegg and Nick Frost, to more classic teams, like Gene Wilder and Richard Pryor, or even going all the way back to Laurel and Hardy.
So which is it. Which is the best movie pair? Let us know in the poll below.
This poll is no longer available.
CinemaBlend's resident theme park junkie and amateur Disney historian. Armchair Imagineer. Epcot Stan. Future Club 33 Member.
Your Daily Blend of Entertainment News
Thank you for signing up to CinemaBlend. You will receive a verification email shortly.
There was a problem. Please refresh the page and try again.