Brian Tyree Henry: 6 Fantastic Performances From The Atlanta Actor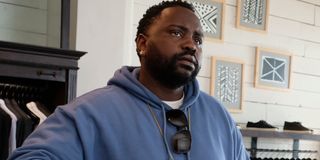 An acclaimed actor of the stage and both the big and small screens, Brian Tyree Henry is an exceptionally talented actor who only continues to impress in a number of exceptional roles. The Tony and Emmy-nominated actor is probably best known for his work on FX's extraordinary Atlanta, though the actor's profile continues to rise with outstanding roles in several other films and TV shows – most recently Joker – all of which we'll take this time to celebrate and acknowledge.
Brian Tyree Henry has also been a standout actor in several stage roles over the years, including Romeo and Juliet, The Book of Mormon, The Fortress of Solitude, and Lobby Hero. For today though, we're moving the focus from the theatre to the theater (and television), for the following Brian Tyree Henry movies and shows that deserve recognition.
If Beale Street Could Talk (Daniel Carty)
Based on the extraordinary novel by James Baldwin, Barry Jenkins' elegant and enthralling adaptation of If Beale Street Could Talk is a heartfelt, beautifully crafted and deeply heartbreaking tale of love and injustice, particularly in regards to the prison system. While Brian Tyree Henry doesn't get as much screen time as our leads, his devastating performance is one of the keys to the movie's emotional success. As a friend of Alonzo "Fonny" Hunt (Stephan James), Daniel Carty is a falsely accused man who recently gained parole after he serving time for a crime he didn't commit. With many long-flowing lines of dialogue lifted directly from Baldwin's novel, Henry's somber and traumatized Daniel reflects many of the hidden emotions he doesn't know how to express in a moving, powerful performance. After enduring such a horrifying term, notably under false circumstances, Henry's wrenching performance is absolutely haunting work.
Widows (Jamal Manning)
In a stellar cast that includes heavyweights talents like Viola Davis, Elizabeth Debicki, Carrie Coon, Jon Bernthal, Daniel Kaluuya, Jacki Weaver, Robert Duvall and more, Brian Tyree Henry could've easily gotten left in the shuffle in Steve McQueen's crime drama-thriller, Widows. But in the role of Jamal Manning, a crime boss who is etching his way into politics, Henry gives another outstanding performance, particularly in a role that's filled with several different complexities. As a politician, Manning's platform is based on providing goods and relief for the underclass citizens and turning over unreformed policies that pollute Chicago's current well-being, as well as providing intelligent and impassioned arguments and debates. But his campaign is built by ill-gained connections and dirty money, demonstrating a power struggle that informs Henry's intriguing and nuanced performance. Even in an ensemble that's this thoroughly stacked, Henry gets many of the movie's richest, most compelling, and most thoughtful sequences.
Spider-Man: Into The Spider-Verse (Jefferson Davis)
In what might very well be his most well-known screen role outside of Atlanta, Brian Tyree Henry lent his voice talents to the Oscar-winning animated film Spider-Man: Into the Spider-Verse in the role of Jefferson Davis, the father of Miles Morales who is also a police officer. While Henry claimed he was too young to portray Morales' father in the film, he agreed to take on the role after discovering that Morales is the only black, Latino Spider-Man. Certainly, Spider-Verse is made better by his winning talents. In this parental role, Henry gives Davis an emotional gravitas that is vital and meaningful in the midst of the movie's hyper-energetic zippiness. Even when Spider-Verse whizzes by at a quick, quippy rate, Henry's established talents for finding the emotional honesty of his characters was definitely heard and celebrated in this triumphant achievement in animated superhero movies.
Joker (Carl)
Unfortunately, Brian Tyree Henry only gets one scene in Todd Phillips' Joker. As Carl, the Arkham Asylum clerk who has an intense and heated confrontation with Arthur Fleck (Joaquin Phoenix), the actor doesn't get nearly as much time as his co-stars to shine. Nevertheless, in this suspenseful sequence, Henry's commanding authenticity helps to hurtle over some of the clunkiness of Phillips and Scott Silver's intriguing, but limited screenplay. While that's not to say that their script is without merit, Henry's scene doesn't necessarily give the actor his full due in this massively popular retelling of the title character's origins. But like any great actor, Henry finds the emotional truth of the scene, bringing so much life and intrigue to even a minor scene like this one, conveying depths that aren't fully realized on the page for this supporting role and bringing a more authentic realism to the movie's bleak aesthetic.
2019's Child's Play (Mike Norris)
While 2019's Child's Play is ultimately a mixed bag as a reboot, providing an interesting modernized spin on 1988 horror favorite, but never making the same indelible impression, Brian Tyree Henry's humorous and commendable performance as Detective Mike Norris doesn't deserve any criticism. In fact, along with Aubrey Plaza and Gabriel Bateman, Henry's work is one of the main reasons why this reboot never totally falters the way so many other horror remakes do. Though he ultimately is left in a substantial supporting role, Henry's mindful, good-natured character is given humor and heart through Henry's surprisingly tender performance. The actor could've easily half-assed his performance in this half-inspired attempt to bring the Chucky property back to cultural relevance, but instead, Henry makes the performance seem sincere and believable, giving 2019's Child's Play more authenticity than you'd expect any killer doll movie to have.
Atlanta (Alfred "Paper Boi" Miles)
In what is certainly his most recognizable and revered role to date, Brian Tyree Henry plays Alfred Miles, i.e. Paper Boi, in Donald Glover's acclaimed FX series, Atlanta. As an up-and-coming rapper who is managed by his cousin, 30-something Earn Marks (Glover), Henry conveys the nuances of this late-in-the-game rapper with humor and pathos, providing a rich, honest sincerity to Miles' ambitions and desires, while also showcasing his sharp wit and comedic timing in the right moments. Certainly in Season 2, Henry is giving more time to shine, practically becoming the show's lead in a few key episodes. While the actor continues to gain notice and more outstanding roles, he hasn't gotten too many leading man roles in the process, which is a great shame. As seen in this series, Henry is capable of commanding the center stage with both levity and gravity.
These are only a few of Brian Tyree Henry's noteworthy performances to date. He has also received acclaim for his work in Hotel Artemis, Relive, Crown Heights, White Boy Rick and more. The exceptionally talented actor continues to gain prominence and acclaim with a number of standout roles, many of which should (hopefully) come out later this year. But what is your favorite Brian Tyree Henry role? Let us know in the comment section!
Will is an entertainment writer based in Pittsburgh, PA. His writing can also be found in The Playlist, Cut Print Film, We Got This Covered, The Young Folks, Slate and other outlets. He also co-hosts the weekly film/TV podcast Cinemaholics with Jon Negroni and he likes to think he's a professional Garfield enthusiast.
Your Daily Blend of Entertainment News
Thank you for signing up to CinemaBlend. You will receive a verification email shortly.
There was a problem. Please refresh the page and try again.