The 10 Best Atlanta Episodes So Far, Ranked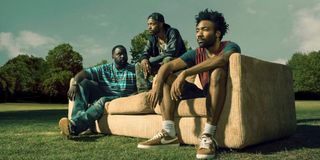 It is hard to conjure a description of Atlanta, created by and starring the multi-talented Donald Glover, that appropriately articulates what this show really is. It would be even more difficult to narrow it down to its top 10 best episodes.
Not long after leaving his starring role on Community, Donald Glover teamed with FX to release a new series, on which he plays a young, financially strapped father who aspires to manage his cousin (Brian Tyree Henry), a rising star in the Georgia rap scene. Glover, who is a popular musician himself, initially promoted Atlanta when it debuted in 2016 as "Twin Peaks with rappers," which does accurately refer to its brilliant balance of dreamy absurdity and character-driven drama, but holds a dimmer candle to the real world themes it sheds light on and the unique nearly anthological style it begins to adopt in later episodes, allowing for a versatile collection of stories unlike anything else on TV.
Such is another reason why making a Top 10 list for Atlanta is so difficult as each of its 21 episodes, airing over two seasons, offer something thematically and/or aesthetically unique to stand out from the rest. Yet, here I am, presenting my personal choices of the most memorable episodes of the groundbreaking, Emmy-winning series so far (if we do eventually see more), starting with a few honorable mentions.
Honorable Mentions: The Streisand Effect, The Club, Crabs In A Barrel
Atlanta took a hilarious and honest shot at social media influencers when Al "Paper Boi" Miles (Brian Tyree Henry) confronted viral amateur critic Zan (Freddie Kuguru) in Season 1's "The Streisand Effect," but the season was at its most surreal with the sight of an invisible limousine in its eighth episode, "The Club." Season 2 ended with Earnest "Earn" Marks (Donald Glover) at his most desperate point as Ali's manager in "Crabs in A Barrel." For as memorable as these episodes proved to be, the following 10 saw the series at its strongest.
10. Go For Broke (Season 1, Episode 3)
While a drug deal with rap trio Migos (playing exaggerated versions of themselves) puts Paper Boi and Darius (Lakeith Stanfield) in fear for their lives, Earn is in fear for his bank account as he takes Van (Zazie Beetz) out for a fancy dinner to prove he has what it takes to survive the music industry. Of all Atlanta episodes that put Earn's financial situation in focus, this one manages to show it in the most humorous lens and still feel painfully real.
9. North Of The Border (Season 2, Episode 9)
Much of Season 2 saw Earn at odds with Al's new friend Tracy (Khris Davis) while Al also began to question Earn's managing skills, which both reach a heartbreaking, self-destructive peak after a disastrous college campus concert gig forces them all (and Darius, of course) to reluctantly take refuge at a fraternity house. We have not yet touched upon the best of Atlanta's surprisingly frequent brushes with horror genre, but the sadistic fraternity pledge ceremony the group bears witness to is certainly one of its more frighteningly realistic moments.
8. Helen (Season 2, Episode 4)
While attending a German cultural festival which Van (played by the authentically German-born Beetz) frequented as a child, Earn's awkward struggle to participate in traditional activities leads Van to question her future with him. "Helen" certainly has its moments of Atlanta's signature bizarre humor, especially from Earn's perspective, but his alienation and aggressive aversion to cultural customs Van holds dear informs the somber, heartbreaking conclusion, especially considering the couple seemed to be in a good place early on in the season.
7. Barbershop (Season 2, Episode 5)
Season 2 also saw Al reach the peak of his patience when a typical visit to his longtime barber Bibby (Robert Powell) takes him a journey across down as a reluctant tagalong for Bibby's increasingly ridiculous errand run. For exhilarating roller coaster ride of escalating fury, "Barbershop" is also one of Atlanta's most flat-out thoroughly hilarious episodes and, better yet, the one from Season 2 that is most definitively comedic.
6. Streets On Lock (Season 1, Episode 2)
In the series' second episode ever, we catch a glimpse into Al's aversion to his own fame as Paper Boi, which becomes more prevalent in Season 2, but the more important focus of the story is Earn's time in custody following a violent dispute at the end of the pilot. It is clear Earn has never been on the inside before, but is surrounded by people almost too used to this environment, marking the first of Atlanta's many forays into boldly authentic social commentary that cleverly distracts you with its signature absurdist humor before pulling the rug right from under you with some brutal honesty.
5. Alligator Man (Season 2, Episode 1)
Earn and Darius on an errand to dispel a dispute Earn's uncle (the titular "Alligator Man") and his girlfriend, but not before a prologue depicting a violent fast food restaurant robbery that has nothing to with the rest of the entire season, narratively that is. From that shocking cold open, a dazzling, Emmy-winning cameo by comedian Katt Williams, and the revelation that Earn's uncle actually does keep an alligator in his house, this opener prepares you to accept that you can never be prepared for what Atlanta's second season has in store.
4. The Big Bang (Season 1, Episode 1)
In the series' first episode, we become acquainted with Earn's cynical desperation, Al's devil-may-care rising star attitude, and Darius' lovably warped perception of reality, ultimately coming to the conclusion that Van is the only real "adult" here. Yet, in addition to your basic character introductions, Donald Glover's genuine writing and director Hiro Murai's dream-like visual style excitedly convinces you that Atlanta is unlike anything you have seen before with an astonishing immediacy that not enough pilot episodes possess.
3. Woods (Season 2, Episode 8)
After he was the star of Season 2's funniest episode, Al became the focus of one of its bleakest tales as a polarizing day with his girlfriend (on what happens to be his late mother's birthday) soon becomes a fight for survival after muggers chase him deep into the woods. In real life, Brian Tyree Henry's mother had passed away near the end of Atlanta's first season, which he used to inform his moving performance of this metaphorical portrait of grief that remains an emotionally effective favorites among fans.
2. B.A.N. (Season 1, Episode 7)
In this episode structured as a half-hour block on a cable station called Black American Network, or B.A.N. for short, Al appears on a talk show discussing topics like transphobia and racial, complemented faux commercials that poke fun at how advertisers target the black demographic. Directed by Donald Glover, this is Atlanta's greatest use of satire, as far as I am concerned, for how gracefully it balances its refreshingly clever, uproariously hilarious, and thought-provoking commentary on such a diverse variety of topics.
1. Teddy Perkins (Season 2, Episode 6)
No episode of Atlanta, however funny or socially relevant, has conjured an impact quite like "Teddy Perkins," which sees Darius trying to pick up a piano from a wealthy recluse with some dark secrets that soon come to light. Not only does Donald Glover direct this episode, which ensured its unrelenting intensity by airing without commercial interruption, he is haunting in the title role, whose backstory will surely remind you of a certain pop music icon, and Lakeith Stanfield gives, arguably, his best performance in this series in what is also, essentially, his most chilling horror movie appearance since Get Out.
So, what do you think? Are these the best episodes of Atlanta or do you think Zan has better judgment? Let us know in the comments and be sure to check back for updates related to the groundbreaking FX series here on CinemaBlend.
Jason has been writing since he was able to pick up a washable marker, with which he wrote his debut illustrated children's story, later transitioning to a short-lived comic book series and (very) amateur filmmaking before finally settling on pursuing a career in writing about movies in lieu of making them. Look for his name in just about any article related to Batman.
Your Daily Blend of Entertainment News
Thank you for signing up to CinemaBlend. You will receive a verification email shortly.
There was a problem. Please refresh the page and try again.