Avengers: Infinity War: 12 Cool Behind-The-Scenes Facts About The Marvel Movie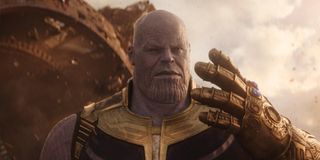 Just when you thought you knew everything about the Marvel Cinematic Universe, we are here to tell you otherwise. No matter how many times you claim to have seen Avengers: Infinity War, there are as many behind-the-scenes facts you may not have know about as there are characters in the shocking 2018 blockbuster.
For instance, did you know that Thanos (Josh Brolin) was originally going to narrate the film, or that Thor (Chris Hemsworth) almost didn't get his eye back? How about the conceived plot detail in which Steve Rogers (Chris Evans) lives with Sharon Carter (Emily VanCamp) that, given the final twist of Avengers: Endgame, we should be thankful was scrapped? That's only three shocking revelations about Avengers: Infinity War. If you want more, look no further. We have 12 even heavier bits of trivia that are sure to make you snap.
Avengers: Infinity War's Story Changed With The Release Of Other Marvel Films
Maintaining continuity in a shared cinematic universe is hard – just ask those involved with Avengers: Infinity War, which was one of five Marvel Cinematic Universe chapters being made concurrently in the late 2010s. Fortunately, there was terrific communication between all of the filmmakers, as Joe and Anthony Russo were able to discuss the depiction of Wakanda with Black Panther director Ryan Coogler, and sort out Taika Waititi's reinvention of Thor in Thor: Ragnarok, which also proved problematic to crafting Infinity War's introduction. Writers Christopher Markus and Stephen McFeely went through several drafts of the opening scene even before the conception of 2017's Ragnarok, which fans know has a mid-credits scene that directly informs what arrived a few months later in theaters.
Avengers: Infinity War Has A Few Unlikely Sources Of Inspiration
What sets the Marvel Cinematic Universe apart from most comic book movies is how they take inspiration for works of art outside of comic books – such as how Ebony Maw's quick death in Avengers: Infinity War came from Raiders of the Lost Ark's iconic scene of Indiana Jones shooting the sword-wielder. If that doesn't strike you as too surprising, as a basis for Tony Stark (Robert Downey Jr.) and Stephen Strange's (Benedict Cumberbatch) relationship, Christopher Markus and Stephen McFeely looked to Frasier and Niles Crane, citing the siblings' parallel arrogance on the NBC sitcom Frasier as the perfect framework to understand how the heroes could play off each other hilariously.
Many Avengers: Infinity War Characters Almost Had Different Looks And Equipment
Speaking of Iron Man and Doctor Strange, did you know that they almost switched costumes for a scene in Avengers: Infinity War? And that's not only change in appearance that several characters in the film could have received, including Thor continuing to live with one eye, Tom Holland's Peter Parker getting a black Iron Spider suit, and even Thanos going shirtless at one point. There was also some alternative weaponry considered, such as a few lethal additions to Captain America's new shields, courtesy of Wakanda, and Thor packing heat with a new gun to replace Mjölnir instead of rocking Stormbreaker.
More Marvel Characters Almost Made An Avengers: Infinity War Appearance
It may be hard to imagine any more characters showing up in Avengers: Infinity War than the inexplicable amount we got, but that could have been the case. Cosmic heroes Nova and Adam Warlock (the latter of whom is important to the original comic book storyline) were considered early on, but were later deemed unfit for the film's overall plot. The same fate befell a planned appearance of Howard the Duck, who had cameoed in both Guardians of the Galaxy movies before re-emerging in the climax of Avengers: Endgame.
Hugo Weaving Refused To Reprise Red Skull For Avengers: Infinity War
As for cameos that did make it into Avengers: Infinity War, Red Skull finally reappeared as the keeper of the Soul Stone, but was recast with CGI trickery and the voice of master impressionist Ross Marquand. Hugo Weaving, who originally played the red-faced menace in Captain America: The First Avenger, revealed that he did not come back for this memorable appearance or in any subsequent Marvel movies primarily due to disputes over his contract. The Australian star of The Matrix went as far as calling Marvel "impossible" to negotiate with during an interview with Yahoo.
An MCU Veteran Director Makes A Discreet Avengers: Infinity War Cameo
Another surprising cameo that that successfully made it into the final product of Avengers: Infinity War was not any particular character, but rather someone closely tied to the history Marvel Cinematic Universe. Kenneth Branagh, who directed Chris Hemsworth in the first Thor solo film in 2011, can be heard as the voice of an Asgardian sending out a distress signal amid Thanos' attack on their ship at the beginning of the film (in fact, it's the first spoken line of the entire film). The star and director of the upcoming mystery Death on the Nile spoke about the hidden appearance for the first time in a recent interview with ComicBook.com.
Captain America's Phone Number In Avengers: Infinity War Could Have Been Real
Despite the numerous hidden Easter Eggs that can be found in Avengers: Infinity War alone, there was one that did not make it into the picture. Joe Russo revealed that Steve Rogers' contact number as seen Tony Stark's flip phone was intended to be a real number fans could call to hear a message from Cap himself. However, for reasons that remain unclear, Disney's legal team put a nix on what may have been a fun, interactive meta Easter Egg to keep viewers entertained even after leaving the theater.
Avengers: Infinity War Scrapped Many Cool-Sounding Fight Scenes
Ideas that never made the final cut do not stop at small details either. The filmmakers came up with several fight scenes for Avengers: Infinity War that sound amazing based on the names involved alone, including a moment in which Drax (Dave Bautista) has a proper one-on-one fight with Thanos, an alternate action sequence to introduce Captain America and Co. into the film, and Thor and Rocket teaming up against a two-headed snake. Plus, some early test footage released on the Infinity Saga box set reveals that Vision's (Paul Bettany) murder of Corvus Glaive to protect Cap almost went Temple of Doom level brutal.
Avengers: Infinity War Cast Learned Their Fates The Same Day Of Shooting
Speaking of brutality, while most actors learn the ultimate fate of their character early on in the filmmaking process, none of the cast from Avengers: Infinity War knew whether or not they would survive Thanos' devastating "snap" until literally the day they shot the infamous scene. Elizabeth Olsen, a.k.a. Scarlet Witch, recalled to MovieWeb how she and her co-stars were taken into a van on set by the Russo Brothers to be addressed the news in secret. However, Shuri actress Leticia Wright was apparently not briefed about this meeting and only learned about her character's death after seeing her face on a black and white teaser poster for Avengers: Endgame.
Tom Holland Improvised His Most Devastating Avengers: Infinity War Line
Few deaths in Avengers: Infinity War come close the heart-wrenching effect of Peter Parker drifting away in Tony Stark's arms, yet it may not have packed the same emotional punch if not for some spur-of-the-moment tinkering. Inspired by the Russo brothers' direction, Tom Holland ad-libbed the heartbreaking quote "I don't wanna go!" which cued Robert Downey Jr. to choreograph on-the-spot how Holland would fall into him before setting him down on the ground. Filming the scene left the entire crew in tears and watching it later really "efffed up" Downey.
Mark Ruffalo Faced First-Hand Backlash From An Angry Avengers: Infinity War Viewer
Of course, the many tearful reactions to the saddening conclusion of Avengers: Infinity War are nothing compared to what Mark Ruffalo witnessed at a New York screening. Joe Russo retold the story to Rotten Tomatoes of one audience member who, after a moment of silence, proceeded to rip his shirt off and scream out "Why?!" toward the screen before parading around the auditorium in hysterics. The Hulk actor, who knows a thing or two about what anger can lead to, immediately left the premises with his son and son's friends.
Reddit Staged Its Own Thanos Snap In Honor Of Avengers: Infinity War
Fortunately, there are some who were able to have a sense of humor about the otherwise traumatic ending, such as Reddit, who seemed to agree with Thanos' philosophies of over-population, at least on the internet. In one of the funniest examples of a viral tribute to Avengers: Infinity War, the online forum decided to ban exactly 50 percent of all followers of a subreddit called r/thanosdidnothingwrong on July 9, 2018, attracting the attention of director Joe and Anthony Russo and, Thanos himself, Josh Brolin, in the process. The move proved very successful in acquiring new Reddit users just to participate in the online "decimation" and especially in prompting some absolutely gut-busting reactions on social media.
Be sure to check back for more updates on the Marvel Cinematic Universe, as well as more illuminating facts from behind-the-scenes of your favorite movies and TV shows, here on CinemaBlend.
Your Daily Blend of Entertainment News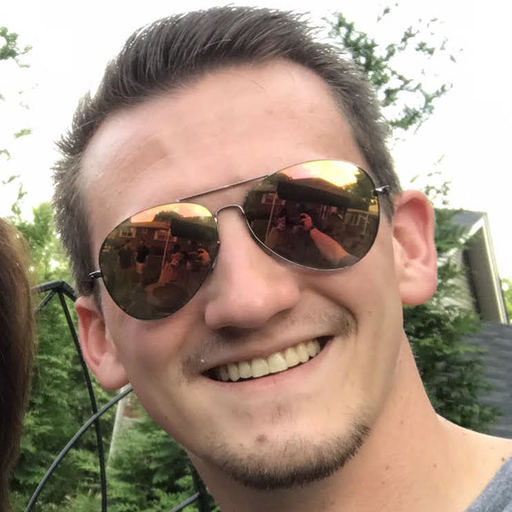 Jason has been writing since he was able to pick up a washable marker, with which he wrote his debut illustrated children's story, later transitioning to a short-lived comic book series and (very) amateur filmmaking before finally settling on pursuing a career in writing about movies in lieu of making them. Look for his name in almost any article about Batman.