That Time Mark Ruffalo Ran From An Angry Fan At An Avengers: Infinity War Screening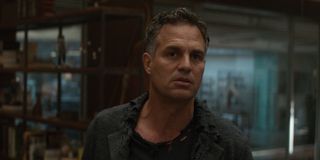 It's not exaggerating to say that Avengers: Infinity War delivered one of the most surprising superhero movie endings of all time. With a snap of his Infinity Stones-powered fingers, Thanos wiped out half of all life in the universe, and while Avengers: Endgame would bring those dusted individuals back a year later, this was one of the rare examples of a villain triumphing in the end.
So it was hardly surprising that Avengers: Infinity War's ending impacted so many people emotionally, although there's certainly a spectrum when it comes to reactions. In Mark Ruffalo's case, when he saw Infinity War in a regular theater, he needed to hightail it out of the screening because one viewer was quite angry with how things turned out. Infinity War co-director Joe Russo recalled:
I can't blame Mark Ruffalo for wanting to get out of the theater quickly with his group. Granted, the actor was incognito, but if this guy was willing to rip off his shirt just because many of the Marvel Cinematic Universe's heroes were essentially killed, one can only imagine what he'd done if he recognized Ruffalo in the theater or lobby. I'd be worried too about things getting violent simply because I was the nearest MCU celebrity.
As directors Joe and Anthony Russo explained to Rotten Tomatoes, while they anticipated that Avengers: Infinity War's ending would be complicated for people, they didn't realize the "depth of emotion that people would experience." Fair, although I'd argue that ripping your shirt off and yelling is going several steps too far. If this guy was as big an MCU fan as he seems, then surely he's aware enough of superhero comics to know that resurrection was on the table.
In any case, Mark Ruffalo, his son and the other kids made it out of the theater safely, and then proceeded to FaceTime Benedict Cumberbatch. The Doctor Strange actor never had the opportunity to see Avengers: Infinity War in theaters, although if he had made it to a screening and had a similar experience as Ruffalo did, skipping seeing it with the regular folks probably would have been the better call.
MCU fans had to wait a year to see how Avengers: Endgame would follow up on Avengers: Infinity War's shocking ending, and as a lot of people expected, the dusted came back to life. Interestingly enough, it was Mark Ruffalo's Professor Hulk who was responsible for this deed. After the Time Heist to collect the Infinity Stones was done, the Green Goliath channeled the stones' powers and snapped those who disappeared five years earlier back into existence, walking away with a damaged arm in the process.
While characters like Thor, Doctor Strange, Black Panther and the Guardians of the Galaxy are all confirmed to be returning to the MCU in the coming years, Hulk's future is unclear. There still aren't any plans to release another Hulk standalone movie and it's hard to say in which upcoming movie he could contribute as a supporting character. Regardless, if Ruffalo does return to the franchise, that provides more opportunities for him to accidentally spoil plot points.
Avengers: Endgame is now available on Digital HD, but for those of you waiting for Blu-ray/DVD copies, those will arrive on Tuesday, August 13. If you're curious about what Marvel movies are coming up, look through our handy guide.
Connoisseur of Marvel, DC, Star Wars, John Wick, MonsterVerse and Doctor Who lore. He's aware he looks like Harry Potter and Clark Kent.
Your Daily Blend of Entertainment News
Thank you for signing up to CinemaBlend. You will receive a verification email shortly.
There was a problem. Please refresh the page and try again.