Why Black Panther's Wakanda Needs Its Own Disney+ Show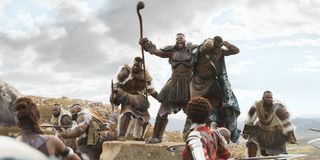 (Image credit: (Marvel))
Since Black Panther became a phenomenon in 2018, it has been subject to the characterization of being in the "overrated" category. The amount of work that went into turning into the fictional country of Wakanda into a seemingly living, breathing place we can imagine actually going is one of many insane reasons why the MCU movie deserves its status. But the film only had two hours to introduce us to the imaginative African culture. Imagine what a Disney+ show could delve into.
Black Panther truly was a stunning achievement for Marvel. The Ryan Coogler film was a monumental effort for Marvel Studios in a number of ways – in terms of Black representation and its critical achievements soaring to seven Academy Award nominations, including Best Picture and three Oscar wins. It feels like we've only scratched the surface of the world building Wakanda could explore. Although we're excited to see Black Panther 2 on the big screen in 2022, here's why the streaming platform should consider a spinoff series set in T'Challa's homeland:
We'd Like To Get To Know The Distinct Wakandan Tribes Of Black Panther
Throughout the runtime of Black Panther, audiences get to meet the six tribes that live in Wakanda. The country is made up of the Panther Tribe, who rule the land; The River Tribe, who wear green and is the place where Lupita Nyong'o's Nakia comes from; The Border Tribe, which guards the nation from foreign threats and includes Daniel Kaluuya's W'Kabi; The Mining Tribem which mines the vibranium for Wakanda; The Merchant Tribe, which conducts trade; and The Jabari Tribe, which is isolated to the mountains and follows the leadership of the fierce warrior, Winston Duke's M'Baku.
We learned about each tribe briefly in Black Panther, but a Disney+ show could go further into what a day in the life of each tribe might be. How they work together or may be at odds could be quite interesting and give us more insight into how the country does things. We'd love to see Get Out's Daniel Kaluuya and Winston Duke expand their roles in the MCU.
There's Never Enough Of Danai Gurira's Okoye And Her Dora Milaje Guard
Among the many badass side characters by Chadwick Boseman's T'Challa in the 2018 hit was Danai Gurira's Okoye. She is the Dora Milaje general, which is an elite team of female bodyguards who protect Wakandan royalty. Okoye found a place in Avengers: Infinity War and Endgame, but she's such a fan-favorite in the MCU that she deserves a larger role in the Marvel franchise. What if there was a Disney+ series centered on Okoye and the Dora Milaje?
Beside fulfilling her daily duties and rolling with her guard, it was clarified in a deleted Black Panther scene that Okoye and W'Kabi are actually married! There has to be more to the story of these two than the film could provide, and it would be an interesting way to learn about Wakanda. Okoye deals with remaining loyal to her job and W'Kabi with his own ideals to his tribe.
A Look Inside Shuri's Life As A Wakandan Princess And Genius
Move over, Elsa! Black Panther's Shuri is our kind of Disney Princess, and there's a lot more potential for this witty and sharp Wakandan teen to shine outside of the Black Panther movies. Letitia Wright's Shuri was another highlight of the 2018 film fans fell in love with. T'Challa has the weight of being the King of Wakanda, but Shuri's perspective on the country may be a bit more laid back and fun-loving.
Shuri's lab is packed with cool Wakanda inventions, such as her blasters and Black Panther's nanotechnology suit. It's an intriguing setting we'd like to spend more time in. It'd also be interesting if Shuri decides to go on her own missions in Wakanda while T'Challa's off on international business. Oh, and we'd like to get to know more about the mother-daughter relationship between Angela Bassett's Ramonda and Shuri.
Lupita Nyong'o's Nakia Could Star In A Globe-Trotting Espionage Show
Wow… did we already mention how stacked Black Panther is? Oscar winner Lupita Nyong'o also had a major role in the MCU film as T'Challa's love interest and a Wakandan war dog. Nakia often goes on undercover missions around the world, such as in South Korea and Nigeria. If the actress signed on for a Black Panther spinoff series, she could have her own version of Alias.
A series such as this may not be a straightforward Wakanda show. Nevertheless, it could involve other aspects of the MCU as Nakia travels and perhaps implements Wakanda's new initiative to reach out to other nations, as motioned by T'Challa at the end of Black Panther. Grounding Wakanda in the real world with jumps between the African country and off-site missions is an exciting concept of a Disney+ show.
For More Insight Into The Politics And Technology Of Wakanda
Overall there's a lot about Wakanda that has yet to be explored in the MCU, and Disney+ would be a great place for it to expand. Marvel Comics even had a 2016 series called World of Wakanda that was written by Roxane Gay and Yona Harvey, and dove further into life in the African nation. Although Black Panther has a lot of exciting characters already at its disposal, Disney+ could easily provide a take completely separate from the movies centering on Wakanda too.
Learning about the inner workings of the kingdom, such as the politics and tech, is intriguing on its own. I'd totally watch a History Channel-esque documentary on the fictional country to learn more about it before heading into the second film in 2022. We're honestly surprised one of these ideas is not in the works already. Although fans will get to see Falcon and the Winter Soldier, Wandavision, Loki, Hawkeye, Ms. Marvel, She-Hulk and Moon Knight on the streaming site in the future.
What do you think? How should Disney+ spin off Black Panther on the streaming platform? Vote in our poll below and feel free to check out Disney+ with a 7-day trial. The next MCU film is Black Widow, hitting theaters on November 6.
This poll is no longer available.
YA genre tribute. Horror May Queen. Word webslinger. All her writing should be read in Sarah Connor's Terminator 2 voice over.
Your Daily Blend of Entertainment News