Star Wars' Ewoks Have Been Shown Without Fur, And It's Horrifying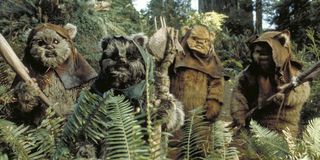 CinemaBlend participates in affiliate programs with various companies. We may earn a commission when you click on or make purchases via links.
In the hierarchy of cute Star Wars creatures, Ewoks rank pretty high on the list, and for good reason. Between their diminutive statures, beady eyes and furry exteriors, you have the perfect blend of adorableness. However, if you were to take fur out of the equation, well then you'd be going from cute to downright horrifying.
You all remember Wicket W. Warrick from Return of the Jedi, right? Well, take a look at one of the Wicket costumes that's been stripped of all fur, and gaze at the monstrosity left behind.
This picture was posted on Instagram by Jake Lunt Davies, who's worked as a creature concept designer on all the Disney-era Star Wars movies so far. As those who saw last December's Star Wars: The Rise of Skywalker will recall, Wicket and his son, Pommet, appeared towards the end of the movie, with Warwick Davis reprising the former and his son, Harrison Davis, playing the latter.
But one doesn't start off with a cute Ewok right off the bat. No, as you can see more in-depth on the Star Wars: The Rise of Skywalker special features, when fabricating the costume for an Ewok like Wicket, the fur is added on later. So when someone tries on the costume sans fur, the result is what you see below, and quite frankly, it's nightmare-inducing.
I'd like to think that within the Star Wars universe, if you shaved all the fur off an Ewok, it wouldn't look anywhere near as discomforting as what's in this picture and give off more of a naked mole rat vibe. Still, this just serves as an example of the effort that goes into designing the creatures in a galaxy far, far away, whether they're costumes that are worn by an actor or some kind of puppet.
In case you need a refresher, Wicket and Pommet cameoed in Star Wars: The Rise of Skywalker during the brief montage showing the collapse of The First Order across the galaxy. While this marked Warwick Davis' first time playing Wicket since Return of the Jedi, the actor has played a number of other Star Wars characters over the years, which included appearing as Weazel in both The Phantom Menace and Solo, and voicing Rukh on Rebels.
It's hard to say if we'll ever see Ewoks either in another Star Wars movie or in a TV show like The Mandalorian. Still, with this space opera franchise having also stretched to novels, comic books and video games, I'm sure there'll come a time when at least one of these teddy bear-like warriors will significantly factor into a story again.
Star Wars: The Rise of Skywalker is now available on Blu-ray, DVD and Digital HD, and it can also be streamed on Disney+ (which is offering a seven-day free trial) alongside the other Skywalker Saga movies. Keep checking back with CinemaBlend for more updates on what the Star Wars franchise has in store for the big and small screens.
Connoisseur of Marvel, DC, Star Wars, John Wick, MonsterVerse and Doctor Who lore. He's aware he looks like Harry Potter and Clark Kent.
Your Daily Blend of Entertainment News
Thank you for signing up to CinemaBlend. You will receive a verification email shortly.
There was a problem. Please refresh the page and try again.