Why John Candy Turned Down A Key Role In Ghostbusters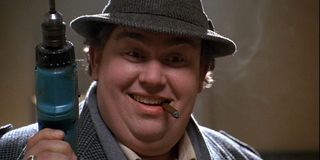 As far as comedy casting goes, John Candy seems perfect for Ghostbusters and, as it turns out, director Ivan Reitman thought so, too. He sent John Candy the script first, wanting him to play the key role of Louis Tully, which would ultimately be played by Rick Moranis after John Candy turned it down.
So why did John Candy say no? Well, it sounds like Ivan Reitman and John Candy had creative differences over how the role would be played, with Candy having a wildly different take than Reitman. In an interview on the Ghostbusters YouTube channel, the director tells the story this way:
While it's a shame we never got to see John Candy's German-accented character on the big screen, we still got Rick Moranis, who knocked the role out of the park. So that's a win either way.
A few years back, Ivan Reitman commented on John Candy's refusal of the Ghostbusters role. Back then, he mentioned that John Candy also wanted the character to have "a bunch of German Shepherd Dogs," which, I'm not going to lie, makes John Candy's vision of the character even better.
Ghostbusters, of course, got a sequel in 1989 with Ghostbusters II. One of the main reasons for the original franchise's success is the roster of memorable characters like Louis Tully. Their absences could arguably be a major reason why many moviegoers weren't interested when the film was remade with an all-new cast. Though it seems Sony has now taken steps to rectify that by producing a true third film -- one directed by Ivan Reitman's son, Jason.
Jason Reitman's Ghostbusters: Afterlife will, if the trailer is any indication, harken back to the original tone and feel of Ghostbusters. While almost all of the original cast is coming back for Ghostbusters: Afterlife, Rick Moranis' Louis Tully will not be returning, unfortunately. As for the late John Candy, it's sad to think that we'll never know how his German-accented, German Shepherd-owning character would have played out, but at least we still have plenty of other signature roles to remember him by.
Your Daily Blend of Entertainment News
Thank you for signing up to CinemaBlend. You will receive a verification email shortly.
There was a problem. Please refresh the page and try again.