Kareem Abdul-Jabbar Has Weighed In On HBO Max's Gone With The Wind Controversy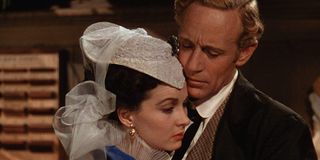 HBO Max's Gone With The Wind controversy first started after civil rights protests broke out across the nation. On June 9th, John Ridley, the screenwriter of 12 Years a Slave, wrote an op-ed in the Los Angeles Times calling on HBO Max to temporarily remove Gone With The Wind from its library because it "romanticizes the horrors of slavery." Now, Kareem Abdul-Jabbar has weighed in.
In his op-ed at THR, Kareem Abdul-Jabbar expressed his own thoughts on the Gone With The Wind temporary removal from HBO Max, saying he has mixed feelings about John Ridley's piece, especially the film's depictions of Confederacy and slavery. And he also gave some of his own ideas on how we should approach art when it deals with these issues. Here's what the basketball player/writer/ actor said:
It should be noted that HBO Max has removed Gone With The Wind from its library on June 10th after John Ridley's op-ed. Warner Media commented that the movie's depictions are counter to their values. But said movie will eventually return, in a slightly different form.
Clearly these are very sensitive issues in our culture today. And Warner Media and HBO Max are certainly not the first to have dealt with issues of racism depictions in past films. Other studios like Disney have had to ban their old movies due to content no longer considered appropriate. In his comments, Kareem Abdul-Jabbar later added:
The controversy doesn't really stop at HBO Max. Soon after it was taken off the streaming service, reports came in that Gone With The Wind skyrocketed on Amazon's movie charts, with even the DVD copies hitting #1. Its mostly forgotten TV sequel Scarlet even saw a boost in sales, putting it at number 30 on the charts.
We don't know when Gone With The Wind will return to HBO Max. However, when it does, it will be feature a new introduction by Turner Classic Movies host Jacqueline Stewart. Stewart said it's important these movies are available as teaching moments because "Gone With The Wind is a prime text for examining expressions of white supremacy in popular culture."
Your Daily Blend of Entertainment News
Thank you for signing up to CinemaBlend. You will receive a verification email shortly.
There was a problem. Please refresh the page and try again.