A Scarlett O'Hara Gone With The Wind Dress Just Sold For A Crazy Amount Of Money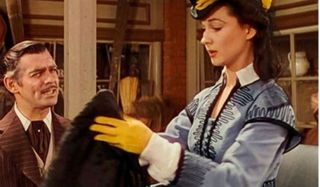 In the world of crazy fandom, someone snagged a dress from the classic film Gone With The Wind and the auction reached an absolutely outrageous number. The dress worn by Vivien Leigh while she played Scarlett O'Hara in the film, which was originally was bought decades ago for a mere $20, was sold at an auction yesterday in Beverly Hills for a hefty $137,000.
According to CNN, the owner had originally bought the highly sought after item from the auction for $20 and was on the verge of throwing it out. The outfit which was a two-piece gray ensemble was among about 150 pieces of Gone With The Wind memorabilia at the auction. The majority of the collection was collected by a former Universal Studios employee James Tumblin who said he came across the high-selling dress in the early 1960s while researching at a costume company. He told The Telegraph:
Once he acquired the dress, his collection began and he continued searching for items from the critically acclaimed film. The auction included other rare items including a straw hat that Leigh wore in a number of scenes as well as one of Rhett Butler's gray wool suit worn by Clark Gable. The dress of note is a jacket and full skirt ensemble which was worn in many big scenes of the film, notably when Scarlett O'Hara was attacked in the shanty town and when she encounters Butler. When Leigh originally wore it in the film it was a slate blue-gray, now over time it has faded to a lighter gray.
Though there was some minor color change over the years, the dress was clearly a hot commodity most likely due to the fact it was worn by Vivien Leigh who won an Oscar for her role as Scarlett O'Hara. Bidding started at $60,000 and doubled within the process. No name has been given on the winner of the bid, but I think they've won the title of biggest Gone With The Wind fan of the century.
Your Daily Blend of Entertainment News
Your Daily Blend of Entertainment News
Thank you for signing up to CinemaBlend. You will receive a verification email shortly.
There was a problem. Please refresh the page and try again.