The Reason Arnold Schwarzenegger's Skipping Gold's Gym For Now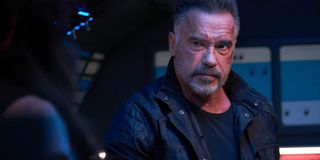 It's no secret that former California governor and Hollywood superstar Arnold Schwarzenegger is something of a bodybuilder. Since his earliest days bodybuilding, he's been a huge fan of Gold's Gym. While he still lifts at the fitness center, this time around, Arnold Schwarzenegger is skipping going there.
According to TMZ, Gold's Gym super fan Arnold Schwarzenegger is opting not go work out there because of health concerns. After he biked there and got to the front desk, he learned that people aren't required to wear masks while working out. That was enough for Arnold Schwarzenegger to skip Gold's Gym until people wear masks or there's a vaccine.
Perhaps the only other surprising thing about Arnold Schwarzenegger not lifting at Gold's Gym is that he lifts at the age of 72. Let that sink in for a minute.
During the quarantine, Arnold Schwarzenegger has been particularly vocal about staying safe on social media and provided encouragement for people to stay home, all while he adorably fed his pet mini pony and donkey. He delivered more of these PSA type social media posts, with another involving him in a hot tub, smoking a "stogie" and wearing a sheriff's hat. In an even more hilarious, and surprising, social media post, he encouraged his followers to practice social distancing and to stretch at home.
Being so concerned about the state of health issues in the world, Arnold Schwarzenegger put his money where his mouth is and donated $1 million dollars to coronavirus relief, specifically a GoFundMe campaign called Frontline Responders Fund. The campaign was put in place to help provided crucial supplies to doctors, nurses and hospital staff.
Of course, he's about as passionate with safety and health as he is about Gold's Gym. As I said before, he's been a longtime customer and supporter. Back in 2014, he even did a funny video where he put on a mustache and pretended to be "Howard," a physical fitness instructor. In pure Arnold Schwarzenegger fashion, he told one patron, "Stop being a baby. This is Gold's Gym, not a baby gym."
In fact, in terms of Gold's Gym fandom, the apple doesn't fall far from the tree. Arnold Schwarzenegger's son, Joseph Baena, also frequents Gold's Gym and has tried to recreate his father's classic bodybuilding poses.
When he's not sending out funny PSAs and working out, Arnold Schwarzenegger is still in the acting game. His last film project was Terminator: Dark Fate, where he reunited with Terminator co-star Linda Hamilton. Since Schwarzenegger is in his 70s, he played a much older Terminator, which pretty much confused a lot of people, but James Cameron attempted to make an explanation the best he could.
Either way, Gold's Gym is going to have to do without Arnold Schwarzenegger for a while. Does this mean they could consider themselves terminated? I'll let you decide.
Your Daily Blend of Entertainment News