10 Great Independent Movies Written By A Person Of Color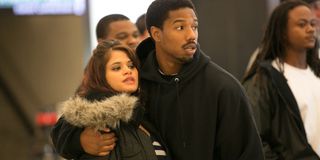 This isn't a revolutionary statement, but Hollywood lacks a bit of diversity. Composing this list of films written by people of color was extremely hard. It was hard because people of color is a term hard to define. For some, people of color means anyone who is part of a marginalized group, for others, the term means anyone whose skin color is a certain hue. It was also not an easy list to make because a lot of groups that fall in the general term people of color don't have many options available nor are they easy to access. I hope with the changing climate that we'll see an increase in Hollywood of people of color being hired behind the scenes as well as on the screen.
With that aside, for this list, I selected ten movies that I really enjoyed and think others might as well--mainly because of the writing in these films. Many of these flicks are lesser known, but available online, either through a streaming service or on a VOD platform where they can be purchased or rented. I tried to include as many different groups that fall under the umbrella of "people of color" and to encompass many different film genres.
Columbus (Kogonada)
Columbus is a film that acts as tribute to architecture and the city of Columbus, Indiana. The film follows Jin Lee (John Cho) who comes to Columbus because his father is sick. He strikes up a friendship with Casey (Haley Lu Richardson), who loves Columbus and helps Jin see the beauty of it. While learning to love the city, he's also trying to reconcile his complicated relationship with his father. Columbus is beautiful to look at for the amazing architecture of Columbus, and for its quiet approach to topics like familial loyalty, growing up, and heritage.
Columbus was Kogonada's first time directing a feature film. He is mostly known for his video essays. He's done video essays and documentaries on various subjects, including filmmakers, like Wes Anderson and Stanley Kubrick. Currently, Kogonada has a film set for a 2021 release that he directed and wrote called After Yang. Colin Farrell, Jodie Turner-Smith, and Justin H. Min are set to star.
Monsoon Wedding (Sabrina Dhawan)
Monsoon Wedding follows two different families as they prepare to unite through the arranged marriage of Aditi (Vasundhara Das) and Hemant Rai (Parvin Dabas). Leading up to the wedding, there are various romantic entanglements and secrets on the brink of being exposed, including Aditi's affair with her married boss.
Sabrina Dhawan's screenwriting credits include nearly a dozen films, including her most recent movie, Rangoon, which is a film set during World War II, and about a Bollywood stunt woman, who is based on real life Bollywood stunt woman Mary Ann Evans aka Fearless Nadia.
Ana E Vitoria (Matheus Souza)
Ana E Vitoria follows real life music duo Anavitoria. It starts with a party, and shows how they connect to become a music act. The film also explores their various relationships as two bisexual women just trying to find true love. Ana E Vitoria heavily showcases the power of social media in today's culture, and especially in these two characters' lives. The film is also partly a musical, which uses songs to show moments of reflection.
Matheus Souza has written for various Brazilian television series and movies, including Confissões de Adolescente, Apenas o Fim, and Eduardo e Mônica.
The Farewell (Lulu Wang)
In The Farewell, Billi (Awkwafina) travels to China to see her grandmother Nai Nai (Shuzhen Zhao), but under false pretenses. Billi and her family tell Nai Nai that they're all coming to China for the wedding of a cousin, but it's really because Nai Nai is dying of a terminal illness. The movie is based on Lulu Wang's real life experience, and Awkwafina's portrayal as Billi won her a 2020 Golden Globe.
Most of Lulu Wang's screenwriting credits include documentaries, short films, web series, and music videos. A film called Posthumous was her directorial debut. It starred Brit Marling and Jack Huston, and it's about a man who fakes his death because his art is worth more as a dead man than as an alive one. Wang is also a writer on the upcoming Amazon Prime Nicole Kidman produced series The Expatriates.
Fruitvale Station (Ryan Coogler)
Fruitvale Station follows the days leading up to the tragic death of Oscar Grant, a 22-year old man shot on New Year's Day in 2009 by the Oakland, California police. The event was filmed on a cellphone camera, which helped lead to the arrest and conviction of the officer who shot Grant. Michael B. Jordan plays the lead role, and Melonie Diaz, Kevin Durand, Chad Michael Murray, and Octavia Spencer have supporting roles.
After Fruitvale Station, Ryan Coogler developed a collaborative partnership with Michael B. Jordan, working with him on Creed and Black Panther. Coogler co-wrote Space Jam II and Black Panther II, which are scheduled for a 2021 and 2022 release.
The Sapphires (Co-wrote By Tony Briggs)
The Sapphires is an Australian musical dramedy loosely based on true events surrounding an indigenous Australian women's group in the 60s. Deborah Mailman, Jessica Mauboy, Shari Sebbens, and Miranda Tapsell play The Sapphires and Chris O'Dowd plays the talent scout who discovers them.
Tony Briggs is the son and nephew of real life Sapphires members. He also wrote the play for which the film is based. Briggs wrote for a show called The Warriors. Besides writing, he also acts himself. He appeared in projects like Rake, Cleverman and Nowhere Boys.
Middle Of Nowhere (Ava DuVernay)
Middle of Nowhere is a film about Ruby (Emayatzy Corinealdi), a woman who tries to be a faithful, devoted wife to her husband Derek (Omari Hardwick) while he serves his time in prison. However, she must decide if he's worth giving up her life for. David Oyelowo and Lorraine Toussaint also star.
Middle of Nowhere is one of Ava DuVernay's first films. She later went on to direct and write Selma, A Wrinkle in Time, Queen Sugar, When They See Us, and upcoming DC Universe film A New Gods.
Blindspotting (Co-written By Daveed Diggs)
Real life best friends Daveed Diggs and Rafael Casal co-wrote and star in Blindspotting, a movie about a man who only has a few days left on his sentence. He then witnesses a police officer shoot an unarmed black man. The incident haunts him and sends him spiraling.
Of course, Diggs is most known for his acting roles in projects like Hamilton, Wonder, Black-ish, Unbreakable Kimmy Schmidt, and The Snowpiercer TV series. Currently, he doesn't have any other screenwriting credits.
Top End Wedding (Co-written By Miranda Tapsell)
Top End Wedding is about Lauren (Miranda Tapsell), who flies home to Darwin to marry her fiance Ned (Gwilym Lee). Once back in Darwin, Lauren and Ned discover that Lauren's mother has run away. The film is about two women reconnecting with their heritage and homeland.
Miranda Tapsell is an Australian actress most known for her roles in The Sapphires, Love Child, Wolf Creek, and Little J & Big Cuz. Tapsell also wrote a few episodes for the comedy series Get Krackin.
Pariah (Dee Rees)
Pariah is about a 17-year old named Alike (Adepero Oduye) who is just discovering herself and her identity as a lesbian, but her mother refuses to accept Alike's identity, even forcing her to be more feminine.
Dee Rees's most famous work includes Bessie, Mudbound, When We Rise, Electric Dreams, The Last Thing He Wanted, and Space Force.
The world of indie films is vast and wide, so if none of these films spark your interest, I encourage you to go hunting for more films written by people of color. It may take awhile to find them, but they're worth the effort.
Spent most of my life in various parts of Illinois, including attending college in Evanston. I have been a life long lover of pop culture, especially television, turned that passion into writing about all things entertainment related. When I'm not writing about pop culture, I can be found channeling Gordon Ramsay by kicking people out the kitchen.
Your Daily Blend of Entertainment News
Thank you for signing up to CinemaBlend. You will receive a verification email shortly.
There was a problem. Please refresh the page and try again.