Pierce Brosnan Explains How James Bond Continues To Affect His Career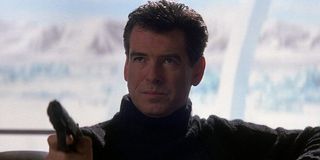 Over his long career, Pierce Brosnan has starred in a great many movies and TV shows. And while some audiences might remember him as Remington Steele, most know him as Bond, James Bond. Like other iconic characters such as Superman, James Bond sometimes typecasts the actor, making it almost impossible to break out into other roles. But Pierce Brosnan has come out explaining how James Bond continues to affect his career in positive ways.
Pierce Brosnan recently has appeared in a supporting role in Will Ferrell's Netflix comedy Eurovision Song Contest: The Story of Fire Saga. And while speaking with The Guardian, he spoke a bit about his role as James Bond, how it affected his career, and how he doesn't let regret into his world. Here's what he had to say:
This sounds like a healthy, wise way to approach his role as James Bond. Own it or you're asking for trouble. Now that he has long retired from the character of James Bond, Pierce Brosnan also gave some James Bond advice to Daniel Craig, who will be ending his run very soon with No Time to Die.
Pierce Brosnan, of course, started his career as James Bond in the 1995 hit film Goldeneye. The previous Bond movie to premiere was back in 1989 with Timothy Dalton's License to Kill, but the returns on that movie weren't great and Timothy Dalton wasn't keen on returning. So the stakes were high for Pierce Brosnan and Goldeneye to succeed. Fortunately, it was a smash hit that led to several sequels starring the actor.
Years later after several sequels, Pierce Brosnan's end as James Bond came as a surprise to the actor, who was negotiating his return as the titular character. While making After the Sunset in the Bahamas, Brosnan received word that he was dropped for the role. To make matters worse, his movie After the Sunset didn't do great at the box office.
Once it arrived in theaters Pierce Brosnan's last Bond outing Die Another Day was a critical failure, despite performing well at the box office. On top of that, the release of The Bourne Identity effectively changed action movies. The James Bond franchise was in desperate need of starting over, which is exactly what it did with Daniel Craig's tenure as the charater.
Of course, none of that got Pierce Brosnan down for long. The actor continued to appear in many high profile movies, like The Ghost Writer and Mamma Mia!, and looks to have many upcoming projects on his plate as well. We'll keep you updated on the latest.
Your Daily Blend of Entertainment News
Thank you for signing up to CinemaBlend. You will receive a verification email shortly.
There was a problem. Please refresh the page and try again.