How Pierce Brosnan Learned He'd Been Dumped As James Bond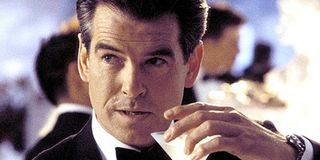 You'd have thought that once the decision was made to bring Pierce Brosnan's tenure as 007 to an end, he'd have been sent away with a warm embrace. Instead, it's now been revealed that the Irish actor was told of his James Bond exit in a rather brutal fashion that the famous spy would have been rather proud.
Pierce Brosnan has explained that he learnt of Michael Wilson and Barbara Broccoli's decision over the phone, while he was actually in the middle of shooting another film. But what struck Brosnan the most was just how callous and quick his sacking unfolded, especially since his last James Bond film, Die Another Day, was the most successful installment in the franchise at the time. Well, financially at least. It was rightly panned critically, but that's beside the point.
Brosnan recalled that his final days as Bond were decided while he filmed After The Sunset, the 2004 Brett Ratner directed action comedy that saw him star opposite Woody Harrelson as a master thief being pursued by an FBI agent. I'll let Brosnan pick up the reigns of the tale here, as IndieWire recapped his interview with authors Matthew Field and Ajay Chowdhury thusly:
To make matters worse, After The Sunset turned out to be absolutely turgid film, landing in the actor's time of need. But what else did Brosnan expect from a Brett Ratner film? It's believed that Pierce Brosnan's asking price to lead his fifth James Bond film was too high for Broccoli and Wilson, who were already considering a reboot for the franchise. Still, they could have let him down a little gentler, considering he gave MGM some much needed blockbusters in their waning days of Hollywood power.
While there's no denying that Broccoli and Wilson probably could have handled Brosnan's sacking in a more gentlemanly – dare I say it, English – fashion, their decision has since been proven right. In the aftermath of Die Another Day, the James Bond franchise was in dire need of a re-branding. Daniel Craig's casting and subsequent films have done just that, giving the character a modern edge that has cemented the franchise's future for, at least, a further 30 years. Sometimes, a brutal sacrifice turns quite the profit.
If you're interested in more information on Pierce Brosnan's firing, as well as other tidbits about the recent "lost" history of the franchise in Matthew Field and Ajay Chowdhury's book, Some Kind Of Hero: The Remarkable Story Of The James Bond Film. With all of the interesting stories we've heard from it, it's fast becoming a sure fire purchase.
Your Daily Blend of Entertainment News