Pierce Brosnan Offers Daniel Craig Some Post-Bond Advice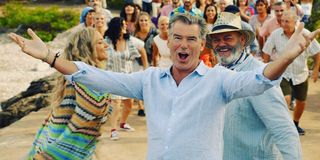 After nearly decade playing the iconic character James Bond on the silver screen, and continuing his acting career post-Bond, Pierce Brosnan knows what it's like being on the other side of 007. After all, the iconic character radically changed his career.
Daniel Craig was Pierce Brosnan's Bond successor after he wrapped up his time as Bond in the movie Die Another Day. And during a live watch party of Goldeneye put on by Esquire, Brosnan offered some advice for Daniel Craig. Here's what he had to say:
That's a nice little note from Daniel Craig's predecessor, especially considering the circumstances of Pierce Brosnan's exit as Bond. He had been in the Bahamas on the shoot for After the Sunset, when he got the news the studio wasn't going to renew his contract to play James Bond again. On top of that, After The Sunset was a critical and box office failure, which likely added more pressure for the actor.
Daniel Craig took the James Bond mantle after Pierce Brosnan in Casino Royale, a movie that veered away from the campiness of Brosnan's later Bond films and embraced a more grounded tone. Still, Craig has spoken about how he thought fans hated his Bond. In the end, Casino Royale rocketed Daniel Craig and his style of Bond to stardom.
Before Pierce Brosnan took on the role of James Bond, it had been six years since a Bond movie had been released. A lot of pressure was put on him and Goldeneye to get it right and do it well. Of course, as we all know, fans embraced it. Goldeneye was a new start that catapulted several more sequels to the franchise.
That's not to say Goldeneye wasn't without its own missteps. As James Bond, Pierce Brosnan got the pleasure of driving 007's iconic Aston Martin. But he's admitted making the mistake of driving it with the handbrake on, creating a burning smell.
After a little over a decade, Daniel Craig was at a crossroads with James Bond. Initially, he had considered putting the character behind him, but he decided to do one more James Bond movie with No Time to Die, which is an oddly similar title to Pierce Brosnan's last, Die Another Day.
Like Pierce Brosnan said, Daniel Craig has the world as his oyster. Other than James Bond, he's got several other projects in the works, including a sequel to his mystery movie Knives Out.
Your Daily Blend of Entertainment News
Your Daily Blend of Entertainment News
Thank you for signing up to CinemaBlend. You will receive a verification email shortly.
There was a problem. Please refresh the page and try again.