Bill Pullman's Independence Day-Themed PSA Tells People To Wear Masks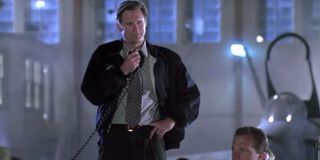 In times of uncertainty, we turn to beloved leaders for words of comfort and wisdom. While Bill Pullman was never actually the President of the United States, he did play an iconic fictional one in Independence Day. And he popped up this weekend to use his pseudo-presidential powers to remind us all to wear masks for the sake of our freedom.
President Thomas J. Whitmore may not have been the hero of Independence Day - he definitely made some questionable leadership decisions. However, his rousing speech in the movie's final act has gone down in cinematic history. So it only makes sense that Bill Pullman would use some of that patriotic good will to try and spread a positive message in these troubled times.
He did just that, thanks to a little help from the Alamo Drafthouse, which posted a short PSA from the former fictional POTUS on their YouTube account on the 4th of July. The video, which is just over a minute long, begins with Bill Pullman playing with a toy fighter jet (not unlike the one his character flies in Independence Day) and sharing his thoughts on the historic holiday:
The actor then reveals his holiday weekend plans to fans -- and they include wearing a mask, which he shows off on camera:
His words definitely strike a chord in places like the United States, where there's still a lot of uncertainty over COVID-19 and concerns about when we can effectively return to life as "normal." Some movies, like Tenet, that were scheduled to hit theaters soon have been pushed back. Bill Pullman ends the PSA by once again playing with the fighter jet and telling fans he'd much rather they be able to see him flying a real plane on the big screen.
Take a look at the latest entry into the Bill Pullman Inspirational Speech canon here:
Bill Pullman isn't the only celebrity that's spoken up in recent days to ask fans to wear masks. Tom Hanks, who survived COVID-19 earlier this year, bluntly told people who won't take proper social distancing measures, "shame on you." Time will tell whether these gestures will make a difference in whether or not people choose to wear masks from here on out.
Your Daily Blend of Entertainment News