Suicide Squad: 10 Cool Things You Might Not Know About The DC Movie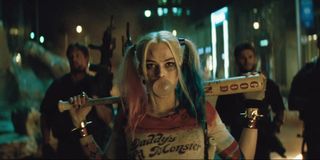 It is hard to believe, but it's already been four years since the DC supervillain blockbuster Suicide Squad raked in tons of cash at the box office and won an Academy Award, all while falling short in the eyes of film critics around the world. And even though the movie was plagued by reshoots, drama with Jared Leto's portrayal of Joker, and director David Ayer's very vocal reactions to the finished product, the movie has remained just as popular with fans since its summer 2016 release. Maybe it's the drama, the reshoots, and other behind the scenes facts that have fans coming back time and time again to the watch and learn more about one of the most peculiar movies in the DC Extended Universe.
Learning more about the drama, reshoots, and other what-ifs surrounding Suicide Squad is probably the reason you are here, so without wasting any more time, let's take a look at 10 cool things you might not have known about the commercially successful, yet critically panned DC movie.
Director David Ayer Claims Harley Quinn's Character Arc Was "Eviscerated"
Margot Robbie's portrayal of Harley Quinn was one of the most engaging and heavily-promoted aspects of Suicide Squad, but many fans weren't too pleased with the overly-sexualized eye-candy that the Maiden of Mischief was turned into for her live-action debut. Director David Ayer, when responding to one of these fans on Twitter, said Harley's story arc was "eviscerated" and that what audiences saw on screen wasn't what he initially had planned for the character, revealing:
It appears long-time fans of the iconic DC villain weren't the only ones displeased with the way Harley Quinn turned out, but that isn't the only thing about the production that upsets David Ayer, who is still tired of being attacked for the film that didn't match his vision.
Suicide Squad Had A Connection To Justice League At One Point
The DC Extended Universe has had its fair share of the ups and down and starts and stops over the the past five years, and it looks like one of the major unifying threads connecting properties like Suicide Squad and Justice League was abandoned, leaving fans wondering what could have been. In 2018, director David Ayer revealed on Twitter that the original plan was to have a connection between Enchantress and Steppenwolf, but like a lot of things surrounding Suicide Squad, the connection was severed early on. Then in 2019, Ayer expanded on his earlier remarks with a more detailed summary of how the connection would have unfolded, tweeting:
According to the director, his original version would have introduced the boom tube, the extra dimensional portal from DC comics that would have allowed for bigger and badder things along the way.
The 2016 Blockbuster Was Also Supposed To Have A Connection To The New Gods
Justice League wasn't the only DC Extended Universe movie to have its connection to Suicide Squad severed before things got too far, as David Ayer revealed in yet another Twitter post that his original script was altered to remove elements of the New Gods when the connections to Justice League were cut out of the draft, stating:
All of this is in reference to fans' cries for Warner Bros. to release the "Ayer Cut" of Suicide Squad just like Zack Snyder is doing with his director's cut of Justice League. And although it looks like we won't be seeing a recut of the 2016 supervillain summer blockbuster anytime soon, maybe we'll see a connection when Ava DuVernay's New Gods movie comes around.
Jared Leto Had Quite A Creepy Way Of Developing His Joker Laugh
Jared Leto is known for his commitment the roles he takes on and has become somewhat of a method actor for a number of his more notable performances, especially Dallas Buyers Club, which netted the actor an Academy Award in 2014. The same can be said about his portrayal of The Joker in Suicide Squad, as he revealed to the hosts of the CNBC program Squawk Box just how he came up with his version of Joker's laugh:
It is just a shame we didn't get to see more of Jared Leto's take on the Crown Prince of Crime after much of his scenes were left on the cutting room floor, leaving behind only a few minutes of footage when Suicide Squad was released in August 2016.
Margot Robbie Learned To Hold Her Breath For Five Minutes For The Movie
Perhaps one of the most intense scenes of Suicide Squad is the one where Ben Affleck's Batman goes to extreme lengths to rescue and capture Harley Quinn in a submerged vehicle in one of the movie's many flashbacks. And even though the scene is rather short, Margot Robbie went through quite a lot of training in order to pull off the feat, as she revealed during a 2016 appearance on The Tonight Show Starring Jimmy Fallon that she learned to hold her breath for up to five minutes for that single scene.
Working with a skilled free-diver over the course of four sessions, Margot Robbie learned a meditation technique that allowed her to reach the five-minute mark before needing to take another breath. Once the Australian superstar got to that point, she decided that was above and beyond what she needed to do and stuck with that.
The El Diablo Backstory Was The Only Battle David Ayer Won With Warner Bros.
One of the most explosive and well-received aspects of Suicide Squad was Jay Hernandez's performance as El Diablo, the somewhat obscure DC villain that ended up stealing most of his scenes throughout the 2016 action flick. One of the reasons behind that could be the tragic and admittedly unnerving backstory behind the flame-throwing baddie that director David Ayer would not back down on, even when Warner Bros. put up resistance.
In May 2020, David Ayer revealed in a Twitter thread that the decision to keep El Diablo's backstory about killing his own family was the only battle he won when having discussions with the studio, as he thought the character needed to have a soul to add a level of pain and grief that wouldn't be there otherwise.
The Success Of Deadpool Had A Major Impact On Suicide Squad
In the years following the release of Suicide Squad, director David Ayer has been extremely vocal about the 2016 movie, its legacy, and his original vision. In May 2020, the filmmaker gave his followers another tidbit of information about the production (and reshoots) of his supervillain film when he revealed just how the February 2016 release of Marvel's Deadpool impacted his DC project. When responding to a tweet about the "I Started A Joke" trailer being the greatest piece of Suicide Squad content, the director revealed that the trailer nailed his original tone for the movie before Warner Bros. executives, shocked by abysmal Batman Vs. Superman: Dawn of Justice reviews, saw the success of Deadpool and decided to go in a more comedic direction.
Viola Davis Really Enjoyed Playing With The Power That Amanda Waller Possessed
There are quite a few villains crammed into Suicide Squad, but nothing compares to the character of Amanda Waller, the seedy and intimidating government official who put the team together. And it seems Viola Davis, the Academy Award-winning actress who brought the character to life, really enjoyed playing with the power that Waller possessed, as she explained on the Variety podcast in 2016, stating:
And judging by the way that Viola Davis carried herself throughout the length of the film, it looks like the veteran actress had a lot of fun playing such an incredibly powerful and mysterious character.
Yes, Jai Courtney Really Did Get Naked And Chase David Ayer On Set
Jai Courtney, who portrayed Captain Boomerang in Suicide Squad, also had a lot of fun on the set of the 2016 supervillain film as a photo showing the Australian actor chasing director David Ayer around during production. During a December 2016 appearance on Conan, Courtney admitted that he in fact did chase Ayer around the set when the director casually walked into his trailer while Captain Boomerang was in a state of undress. Things got even more out of hand when Jay Hernandez started telling Jai Courtney to "sic 'em" while the whole episode was playing out.
Shia LaBeouf Was Eyed For A Role Before The Studio Shut It Down
And the final bit of information about the making of Suicide Squad is the fact that Shia LaBeouf almost took on the role of Lt. GQ Edwards, a character that was eventually handed over to Scott Eastwood before the start of production. The former Disney Channel star touched on the subject during a 2016 interview with Variety where he revealed that the character went through a number of changes before Warner Bros. made their decision:
You can chalk it up to Shia LaBeouf's shaky past or the smaller role thanks to the beefed-up performance of Will Smith as Deadshot, but either way, having someone of LaBeouf's skill and demeanor could have made for a great addition to the movie.
Well, those are just a few of the cool facts from the making of Suicide Squad. If they ever end up making the "Ayer Cut," you will be able to find all of the information on that here on CinemaBlend.
Philip grew up in Louisiana (not New Orleans) before moving to St. Louis after graduating from Louisiana State University-Shreveport. When he's not writing about movies or television, Philip can be found being chased by his three kids, telling his dogs to stop yelling at the mailman, or yelling about professional wrestling to his wife. If the stars properly align, he will talk about For Love Of The Game being the best baseball movie of all time.
Your Daily Blend of Entertainment News
Thank you for signing up to CinemaBlend. You will receive a verification email shortly.
There was a problem. Please refresh the page and try again.