Suicide Squad Won An Academy Award And It Actually Deserved It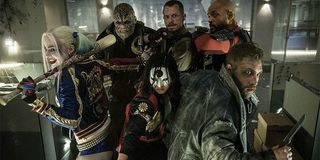 Look, Suicide Squad was far from a great movie. It was chock full of continuity issues, bad performance choices, and downright wrong depictions of DC characters. Most of us can agree on that, right? However, there's one very specific aspect of the film that's indisputably worthy of praise: the overall designs of the characters. With that in mind, The Academy of Motion Picture Arts and Sciences honored Alessandro Bertolazzi, Giorgio Gregorini, and Christopher Nelson for their work on the Task Force X solo movie with the Oscar for Best Makeup and Hairstyling this evening, and they thoroughly deserved the recognition.
For all of the criticisms that we can level against Suicide Squad (and there are many), the fact remains that the general character designs and the overall aesthetics of these classic DC villains were peerless when the film hit theaters back in August. Despite all of the critiques we have of Jared Leto's Joker, he genuinely looked like The Clown Prince of Crime, and Adewale Akinnuoye-Agbaje's Killer Croc proved to be one of the most outlandish (and yet most convincing) comic book supervillains that we have ever seen depicted on the silver screen. In short, they nailed eclectic look of the Suicide Squad.
However, there's one very particular aspect of Suicide Squad's hair and makeup design that makes it rise above the competition: diversity. While Star Trek Beyond indeed featured some genuinely outlandish makeup and hairstyles, the fact remains that the overall looks of characters like Krall (Idris Elba) and Jaylah (Sofia Boutella) were ultimately drowned out in a sea of human (or at least seemingly human) characters. They were good, but there wasn't enough diversity to make the extraterrestrial designs really stand out when compared to Suicide Squad.
As good as they are, the following two characters are the only two prominent and outlandish alien personalities in the film.
By contrast, Suicide Squad is a hodgepodge of iconic DC looks, and all of them are convincing in their own rights. Joker and Harley Quinn (Margot Robbie) have their specific, clownish looks; Croc has his own distinct (and terrifyingly realistic) visage and tattooed freaks like El Diablo (Jay Hernandez) and Monster T (Common) very much of their own notable appearances. If nothing else, the film captures the diverse environment that is the DC Universe. More importantly, almost all of these vastly different characters took on prominent roles in the movie, which means the hair and makeup were on full display for the bulk of Suicide Squad's runtime. The DCEU's Task Force X solo movie is a complete and utter masterclass in character designs, and this supervillain team-up movie undeniably deserved to walk away with an Oscar for Best Makeup and Hairstyling.
You can hate the editing, storytelling, performances, or overall characterizations in Suicide Squad all you want, but you will be hard-pressed to argue against the fact that these characters look phenomenal. Make sure to stay tuned for all of the latest and greatest updates regarding your favorite Oscar winners.
Your Daily Blend of Entertainment News
Originally from Connecticut, Conner grew up in San Diego and graduated from Chapman University in 2014. He now lives in Los Angeles working in and around the entertainment industry and can mostly be found binging horror movies and chugging coffee.