Why Hulk Hogan Had To Pay Royalties To Marvel For 20 Years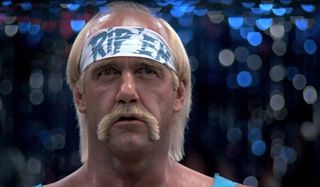 It safe to say that without "Hulkamania" running wild in the 1980s, the WWE and the world of professional wrestling would be a very different thing today. Hulk Hogan was, without any question, the first global superstar pro wrestler, and it all started when a guy named Terry Bollea changed his name to "Hulk." The name-switch changed everything for him, but it also meant a huge windfall for Marvel Comics, who cut a deal with the then-WWF to use the Marvel-owned name "Hulk," obviously tied to The Incredible Hulk. So how did all happen?
To understand it, you need to understand a little about the pro wrestling business. Prior to the 1980s, there were dozens of regional wrestling promotions. Some of the larger promotions included World Class Championship Wrestling in Dallas, Georgia Championship Wrestling in Atlanta, St. Louis Wrestling Club in St. Louis, and Capitol Wrestling Corporation in New York City. Local promoters had an agreement to share talent for their regionally produced and non-televised "house shows" as well as their TV telecasts, also usually produced locally.
Through a professional organization called the National Wrestling Alliance (NWA), of which the local promoters were all members, everyone agreed not to infringe on each other's territories. But everything changed in the 1980s when third-generation wrestling promotor Vince McMahon, Jr., owner of the Capitol Wrestling Corporation (CWC), took control of his father's company with a bold vision of wrestling's future. He wanted it to be national in scope, and as such, he pulled the CWC out of the NWA and renamed his organization first the WWWF, and eventually the WWF for World Wrestling Federation.
McMahon immediately went to work putting regional promoters out of business, buying their talent up and cutting national TV deals, something that had never really been done before. His biggest and most important signing was when he outbid another regional promoter for a talented young wrestler named Hulk Hogan in 1983. It was actually the second time Hogan had signed with the WWF, though he'd been released in 1981 after filming scenes for Rocky III, where he played the wrestler "Thunderlips" that fought Rocky Balboa early in the film.
In just the couple of years between Hogan first getting released by the WWF and signing back up with them, he had become a star. When he joined that second time, his fame reached heights that had never been dreamed of for a pro wrestler before.
Hogan first got the name "Hulk" while working for the Continental Wrestling Association, which was one of the premiere regional promotions in the '70s. One promo featured the 6'7" Hogan standing next to Lou Ferrigno, star of the hit '70s TV show, The Incredible Hulk. Hogan, who was 2 inches taller than Ferrigno, and was actually quite a bit more muscular at the time, was dubbed "The real Hulk!" by the announcer, and it stuck. The "Hogan" part was added by Vince McMahon, who wanted an "Irish wrestler" in his promotion.
While Hulk Hogan had been called "Hulk" for a few years, Marvel took little notice of a regional wrestler with no national fame. Rocky III changed that in a big way, however. Just three weeks after returning to the WWF in the winter of 1984 and being first introduced as "The Incredible Hulk Hogan," Hogan became the WWF Heavyweight Champion when he defeated The Iron Sheik at Madison Square Garden. For the next six months, as champion, he continued to be introduced as "The Incredible Hulk Hogan," and that's when Marvel perked up and voiced its displeasure.
Marvel owned the rights to the name "Incredible Hulk," and had done so for years. At one point, the company's execs contacted the WWF to let them know there was a problem, and in July of 1984, Marvel, the WWF, and Hulk Hogan came to an agreement.
Hogan and the WWF could use the name "Hulk Hogan," but they could no longer use "incredible." That led to Hogan being called "The Immortal Hulk Hogan" from then on before eventually just becoming "Hulk Hogan." But that wasn't the only part of the compromise between the three entities.
As shown here (opens in new tab) in the actual document, Marvel would receive $100 for every wrestling match that Hogan appeared in for 20 years, beginning on July 9th, 1984. Additionally, all Hulk Hogan merchandise – and there was a LOT of merch for Hogan in those days – would be tagged with the label "Hulk Hogan is a trademark of the Marvel Comics Group, licensed exclusively to TitanSports, Inc." Titan Sports was the parent company of the WWF at the time.
As well, it was agreed that Marvel would also receive 0.9 of 1% of all the proceeds from the sale of any Hogan-related merchandise. Again, there as a lot, from wrestling dolls of all kinds to bandanas, t-shirts, posters, action figures, and much, much more.
By the mid-1980s, Hogan was not only by far the biggest star in wrestling, with the WWF having gone national, but his fame transcended wrestling and exploded into mainstream pop culture. Hulk Hogan was HUGE. He starred in movies like No Holds Barred, Suburban Commando, Mr Nanny and Gremlins 2: The New Batch. He also guest-starred on some of the biggest TV shows of the day, including The A-Team and Baywatch. He was a genuine media superstar, though the music side is mostly best left forgotten.
It's hard to put a number on exactly how much Marvel earned in the deal, especially from the merchandise side of things. But in those days, when one includes matches from all house shows and TV appearances, a reasonable guess is that Hogan worked around 300 matches a year. (Yeah, wrestlers work A LOT.) So, an 300 matches a year over a 20-year span would have worked out to somewhere in the neighborhood of $600,000, which doesn't include all the merchandise money.
Marvel, now the co-owners of Hogan's merchandising rights, also took advantage of his enormous popularity by creating a comic book where Hulk Hogan faces off against the Incredible Hulk in a wrestling match. You can guess who won, with it being a Marvel book. Hogan got creamed by The Incredible Hulk after insulting the behemoth and calling himself the real "Incredible Hulk."
When Hogan famously left the WWF for the WCW, a rival promotion, the deal followed him. The contract originally said it would last until "(a) 20 years from the date of this agreement or (b) when Terry Bollea ceases to be involved with wrestling," and 20 years later, in 2005, Hogan was still very much a part of wrestling.
By that point, Hulk Hogan was back in the newly renamed WWE after the company lost a lawsuit with the World Wildlife Fund over the use of WWF. (Vince McMahon has clearly had some naming issues in his career.) Hogan was able to "buy back" his name at that point and the deal with Marvel ended.
Hulk Hogan is retired from wrestling now, if not completely on a voluntary basis, but his name remains iconic. He's in the WWE Hall Of Fame again, and he's even the subject of an upcoming biopic with another star well-known for his association with Marvel; Thor himself, Chris Hemsworth, will be playing the legendary wrestler.
Marvel likely won't make any money from that project, though they certainly must have taken home a tidy amount in those 20 years when Hogan's fame was at its pinnacle. Now when do we get a movie adaptation of Hulk Hogan vs. the Incredible Hulk?
Hugh Scott doesn't believe aliens are hidden at Area 51 or that Elvis is alive, but he does believe birds are real and Meghan Markle isn't treated fairly by the tabloids. He's been writing about music, movies, and celebrities for most of his adult life after realizing stocking shelves in a paper warehouse in college wasn't all it was cracked up to be.
Your Daily Blend of Entertainment News
Thank you for signing up to CinemaBlend. You will receive a verification email shortly.
There was a problem. Please refresh the page and try again.