Scoob! And 5 Other Movies I Put On For My Kids But Ended Up Loving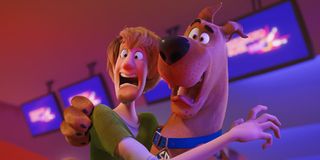 I am sure I am not the only parent out there who has expanded their movie horizons in the years since my kids were born. Long gone are the days spent watching anything and everything I wanted (at least before my kids go to bed), and now I live in a world where I watch pretty much every kids' movie as soon as it's released. It's not all bad, however, as there are times where my kids want to watch a movie like Scoob! which recently proved to be one of the most delightful treats for a random weekend afternoon.
The 2020 remake/reboot of the classic Scooby-Doo, Where are You! series is just the latest in a series of movies that I have put on for my young children (a four-year-old, a two-year-old, and a six-month-old) that I ended up enjoying, and I'm not lying. Sure, there are some pretty wretched kids movies out there, but there are surprisingly some out there with great humor, action, and emotional beats that have left me an emotional wreck by the time the credits roll. Here are just a few of those movies…
Scoob!
Like many people out there, I was surprised when Scoob! dropped on HBO Max in late June 2020, especially considering the movie came out digitally a couple of months prior after its theatrical release was scrapped. So when my daughter said she wanted to watch Scoob! after hearing her cousins talk about it, my family sat down in the basement and turned it on.
I initially expected the movie to be a run-of-the-mill adaptation of a classic animated series that would find a way to shoehorn in references and jokes first written more than 50 years ago, but boy was I wrong. Sure, there were plenty of references to those classic Hanna-Barbera cartoons scattered throughout, but the fresh story and stellar animation made it anything but just another kids' movie. There were actual stakes and friendships were tested, which was not what I expected. Scoob! was then immediately added to the list of movies that I don't mind my kids demand to watch time and time again.
Trolls World Tour
Scoob! wasn't the only animated kids movie to take the digital release route opposed to a traditional theatrical release, as Trolls World Tour not only generated a lot of buzz following its April 2020 on demand release, it also reportedly made a ton of cash by doing so. Before contributing $20 to the more than $100 million in rental fees in the days following the film's release, I didn't really know what to expect from the movie besides some song and dance numbers that my daughter would end recreating for weeks to come. But I actually enjoyed it, and it wasn't just because my daughter was so excited.
Over the course of the 48-hour rental period, we watched Trolls World Tour at least four times and each time we enjoyed it a little more. Not only did it have a fun story and some great visuals, but it also introduced my young children to different music genres and cultures in a fun way that wasn't overbearing or forceful. And even though my daughter is now obsessed with Barb and fails to understand the concept of only keeping a movie for a short period of time even though you spent $20 on it, the movie brought a lot of joy to my house in a time when we needed it the most.
Coco
I really wanted to see Coco when it was first released in theaters in November 2017, but taking a young toddler and a newborn baby to movie is just something that I will never do (I wish more people were like this). When the delightful, colorful, and highly emotional Pixar film appeared on Netflix the following year, I immediately put it on for my kids. Having not read too deep into the plot before starting the movie, I didn't know what to expect. Sure, the trailers and promotional material showed some great Mexican Day of the Dead-inspired art direction and musical numbers, but I had no idea it would affect me the way it did.
Sitting down with my daughter (who was two at the time), I was entranced by the spectacle that was playing out in front of our eyes. A movie about culture, legacy, and the never-ending love shared between a father and daughter pulled at my heartstrings and instantly became one of my favorite movies from the famed animation studio. We loved the movie so much we bought a copy when we were running errands later that day. I could have very well watched it on Netflix and now Disney+, but a Coco deserves to have a spot in any movie collection.
Dora And The Lost City Of Gold
I have a funny story about Dora and the Lost City of Gold that I think a lot of parents could relate to, especially after everything that has happened in 2020. Shortly before the Coronavirus pandemic pretty much put my city on lockdown, I picked up a copy of the live-action adaptation of the Nickelodeon animated series Dora the Explorer, thinking I would have it for a few days at most. Little did I know but that movie would take up a semi-permanent residence in my Blu-ray player for several months.
At first, I thought Dora and the Lost City of Gold was going to be just your standard adaptation of a television series that would be forgotten in a matter of weeks. Little did I know that it included some pretty clever writing, poked fun at the titular character breaking the fourth-wall, and even a few dance numbers. In those early days of self-isolation, Dora and the rest of the characters in this shockingly funny and heartfelt movie broke up the anxiety that had taken over my house.
Kiki's Delivery Service
I never had the opportunity to watch any of the Studio Ghibli animated films when I was a kid, so when my daughter was first starting to get into movie, I thought I would start going through the Japanese studio's library of classic stories. One of the first movies I showed her was Kiki's Delivery Service, you know the one about the young witch who goes off to the city to find her place in the world. Besides that, I didn't know what to expect. I knew there would be some great animation and probably a good story, but nothing like this.
When my daughter and I recently watched Kiki's Delivery Service again now that she's a little older, we were both hooked by what we were seeing on screen. My excitement and glee could be coming from the way my daughter responded to this delightful cartoon, but I really think that there is something great within the movie that we will continue to love for years to come. And just like with Frozen II and Trolls World Tour did a few months earlier, my daughter always asks to watch the movie again and again.
Sing
Shortly after my wife and I brought our son home for the first time, we rented the 2016 animated musical Sing, hoping it would distract our older daughter while we adjusted to life with two kids under the age of two. I had heard good things about the movie including its star-studded cast and great musical performances, but I had no idea that the movie would suck us in and cause us to lose track of the real world for a couple of hours.
I will never forget the four of us in bed on that rainy August 2017 afternoon watching what would soon become a staple of our home for a stretch of time, and how delightful it was to watch a movie that not only had a great story but was a ton of fun and had a lot of depth as well. It's lighthearted and safe enough for young children to watch but also has enough humor and wit for adults to enjoy at the same time. Anyone with kids knows that it's very important to find something that appeals to everyone in the house.
Those are just six of the movies I have put on for my kids that I ended up enjoying. If there is a movie that you put on for your kids and ended up loving, make sure to let me know in the comments below because I'm always looking for something new to watch my kids that isn't Frozen or Cars.
Your Daily Blend of Entertainment News
Philip grew up in Louisiana (not New Orleans) before moving to St. Louis after graduating from Louisiana State University-Shreveport. When he's not writing about movies or television, Philip can be found being chased by his three kids, telling his dogs to stop barking at the mailman, or yelling about professional wrestling to his wife. If the stars properly align, he will talk about For Love Of The Game being the best baseball movie of all time.