Frozen II Kept Changing While Coming Together, Which Made Filming The Disney+ Series Hard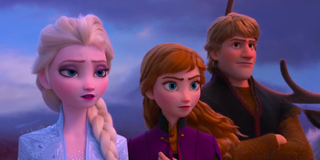 To the casual observer, it may seem like filming documentary footage is pretty cut and dry. You're just filming stuff that's actually happening, right? However, anyone who's actually worked on a documentary will tell you it's not quite that simple. In the case of Disney+'s Into the Unknown: Making Frozen II, changes to the blockbuster film's story actually made it harder for the documentary's filmmakers to put together their own project.
Given the enormous success of Disney's Frozen, its sequel was one of the most anticipated animated films in recent years. So it makes sense that the studio would commission a documentary to follow its production. However, the road to Frozen II wasn't always easy, as Into the Unknown: Making Frozen II illustrates. In some cases, the ups and downs of the filmmaking process meant that the documentary's creators ran into their own dead ends.
Director Megan Harding told CinemaBlend that coming up with usable storylines for the documentary proved to be a challenge:
Ultimately, Frozen II's filmmakers figured out the best way to tell the story and wound up making a billion-dollar blockbuster in the process. The makers of Into the Unknown: Making Frozen II also ended up with enough footage to create a compelling six-episode series for Disney+. It offers an intimate glimpse into the mindset of Jennifer Lee and the rest of the Frozen II team, including their fears and insecurities about the sequel.
Megan Harding was also able to include some of the biggest points of contention that came up during Frozen II's production -- like how the climax of the film should play out. So despite the setbacks they faced, they found a way to make the production process into something worth tuning into.
Have you watched Into the Unknown: Making Frozen II yet? What did you think? Let us know in the comments!
Your Daily Blend of Entertainment News