The 10 Best Documentaries Available To Stream Now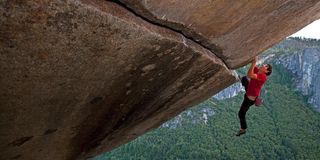 We watch documentaries because they offer a view into the history and life of an extraordinary person, or someone destined for greatness. Documentaries help explain an individual, group, or a life-altering global event. They also provide just as much entertainment as information. Documentaries are some of the most interesting and eye-opening streaming films available. Movie lovers know that these films are essential to view because of their intimate look into the human condition.
Look through any catalogue of any streaming service and you'll find plenty of documentary choices. Whether trying to watch a documentary series or feature film, plenty of options are available. This may make it difficult to know which ones deserve your attention. The types of documentaries that you may choose depends on your preference: Do you want to catch the latest Oscar nominated documentaries? Are you a fan of knowing your favorite celebrities' histories? Do true crime stories spark your interest?
In this list, we wanted to curate a varied selection of documentaries. Therefore, at least a few films on this list should match your interest. We restricted this list to feature length documentaries, and not documentary series. Our picks consists of critically acclaimed, award winning, and just very moving, profound, or exciting documentaries that are available to stream as part of a subscription service.
Free Solo (Hulu)
Little Monster Films released Free Solo in 2018. The film went on to receive critical acclaim and numerous awards, including the 2019 Academy Award for Best Documentary Feature. Free Solo follows rock climber Alex Honnold as he attempts to do a free solo climb, a climb without any protective equipment, of El Captain in June 2017. Part of the film follows the Free Solo crew, led by directors Elizabeth Chai Vasarhelyi and Jimmy Chin, and the other half highlights Alex Honnold's free solo journey.
Free Solo is the definition of high risks, high rewards for both Alex and the team behind the documentary. If he accomplishes his free solo mission of El Captain, he becomes a rock-climbing hero. If he fails, he dies. For the Free Solo crew, they could produce a magnificent film and witness a historical event, or they could watch and film a man falling to his death. This takes Free Solo watchers on an anxiety-ridden journey, but the outcome gives them a sense accomplishment and triumph. It's a beautifully shot film with all the equipment for an unforgettable experience. Free Solo is available to stream on Hulu. Stream it HERE.
Hoop Dreams (HBO Now)
Hoop Dreams is a 1994 documentary that follows the journey of two Chicago high school students and their quest to become professional basketball players. The film is as much about basketball as it is about the struggles of growing up, especially as an underprivileged person of color in the inner city. For five years, Hoop Dreams follows the journey of William Gates and Arthur Agee.
Hoop Dreams is one of the most well known documentaries of all time. It addresses issues about race, poverty, social class, values, education, and more. Hoop Dreams also showcases one of the most dangerous feelings: hope. Gates and Agee go through the typical struggles of youth, but with the added weight and pressure of trying to better their lives by becoming elite athletes-one of the hardest professions to obtain. Hoop Dreams isn't just one of the greatest documentaries but one of the greatest sports films. Hoop Dreams is available through HBO Now or through an HBO cable subscription. Stream it HERE.
Ken Burns: The Central Park Five (Amazon Prime Video)
In 1989, an unknown assailant attacked and raped a young white woman in New Year City. The New York Police Department and a District Attorney prosecuted five young boys of color for the crime. The boys were later found innocent of all charges, but they were coerced into confessions and spent time in prison for this crime that they didn't commit. The Central Park Five chronicles the attack, the boys' false imprisonment, and the scars this incident left on all those involved.
The Central Park Five documentary and story later inspired the hit Netflix series When They See Us. Like When They See Us, Ken Burns' documentary is a gut-wrenching look at the injustice done to the young boys and the Central Park jogger victim. The Central Park Five documentary expertly handles the material and flashes a huge spotlight on this era of racial tension in New York City. Amazon Prime Video includes The Central Park Five as part of their Prime membership subscription. Stream It HERE.
Jiro Dreams of Sushi (Netflix)
Jiro Dreams of Sushi is a documentary that follows Jiro Ono, 85-year-old owner of Sukiyabashi Jiro, a Michelin three-star restaurant that only serves sushi. The menu on Sukiyabashi Jiro is a 20 course-tasting menu that Jiro spends a lot of time perfecting to match his diners. Jiro Dreams of Sushi is the relentless pursuit of perfection, while also being content with your situation and circumstance.
Jiro Dreams of Sushi profiles a culinary master and the life that he creates surrounding his restaurant and those that work for him. His employees are his literal and figurative family. Jiro Dreams of Sushi is a gorgeous tribute to craft and working to improve oneself, even when you've achieved what others would consider the highest standard. Jiro Dreams of Sushi is available on Netflix. Stream it HERE.
Dear Zachary: A Letter To A Son About His Father (Amazon Prime Video)
Dear Zachary began as a way for filmmaker Kurt Kuenne to allow healing as he and others were grieving his friend Andrew Bagby, who was tragically murdered by his ex-girlfriend Shirley Jane Turner. As the documentary unfolds, things become even more heartbreaking in Dear Zachary.
Dear Zachary may leave viewers feeling frustrated at the many missteps of the Canadian justice system, and the dire consequences of those decisions. Dear Zachary is so traumatic that it's one of those films that most viewers can only watch once. However, the film is more than worth the journey, not only for Kurt Kuenne's tribute to his friend, but as an open letter to the justice system with a plead for them to make changes. Dear Zachary is available to stream on Amazon Prime Video. Stream It HERE.
Best Worst Thing That Ever Could Have Happened (Netflix)
Best Worst Thing That Ever Could Have Happened revisits one of Harold Prince and Stephen Sondheim's disastrous initial runs, Merrily We Roll Along. The documentary reunites the original cast and crew of the musical to discuss the production that led to only 16 performances. The production of Merrily We Roll Along not only received negative reviews and public walkouts, but it also ended the collaborative partnership of Harold Prince and Stephen Sondheim until 2003.
Best Worst Thing That Ever Could Have Happened gives an in-depth look at Merrily We Roll Along's production, including rare footage of practices. It's not only a fascinating look at an unexpected Broadway failure, but discusses the unpredictability of trying to make it in any art-related field. Best Worst Thing That Ever Could Have Happened features a reunion and interviews with the original cast, which includes Jason Alexander. Best Worst Thing That Ever Could Have Happened is available on Netflix. Stream it HERE.
Citizenfour (Vudu)
Mainly, Citzenfour focuses on a Hong Kong interview between Edward Snowden and documentary filmmaker Laura Poitras, and journalists Glenn Greenwald and Ewen MacAskill. Edward Snowden is a former NSA analyst who discovered that the U.S government uses technology to spy on its citizens. Disturbed by this knowledge, Snowden decided to leak this information to the world.
Citzenfour won the Academy Award for best Documentary in 2015 and led to a feature film starring Joseph Gordon-Levitt called Snowden. The impact Edward Snowden's reveal had on the world created further divide between the government and the people it's supposed to protect. The film highlights the breach between personal privacy and the government, while showing the danger Edward Snowden puts himself in to reveal this information. Citizenfour is available to watch (with ads) for free on Vudu. Stream it HERE.
Paris Is Burning (Netflix)
Paris is Burning is a documentary about the ball circuit in the mid to late 80s. Ball culture in New York City involved LGBTQ members competing in various competitions, everything from drag to voguing. Paris is Burning explores deeper themes of sexuality, class, race, and gender. It follows several different ball related houses and its members.
Paris is Burning has been an important film in LGBTQ culture since its release, and its impact has helped inspire and lead the way for series like Pose and RuPaul's Drag Race. The film easily blends the comic shade of the queens and kings of the ball scene, with the seriousness of trying to live and enjoy life without persecution. Paris is Burning is available on Netflix. Stream It HERE .
Fyre Fraud (Hulu)
In January 2019, two documentaries about the infamous, failed music festival, Fyre Fest, arrived on streaming. Netflix and Hulu went head to head by releasing Fyre Festival documentaries in the same week. Despite the similar subject matter, Hulu and Netflix took different approaches to the Fyre Festival story. Hulu's Fyre Fraud chronicles Billy McFarland's rise to fame and infamy, and the festival that came from it.
Fyre Fraud makes sure to point the fingers at those who deserve to be reprimanded for their part in the Fyre festival. It focuses a lot on Billy McFarland and shows how he's an expert conman with little signs of remorse. It also doesn't let big names like Ja Rule off the hook for their part in the fiasco. The documentary is a fascinating look at the crippling desire for fame, exclusivity, and privilege. Stream Fyre Fraud HERE.
Waking Sleeping Beauty (Disney+)
Waking Sleeping Beauty follows Disney visionaries from 1984 to 1994. This is a major time for Disney as the company began creating some of its most famous animated features. Waking Sleeping Beauty showcases how the animators came back from near ruins to create some of the studio's most profitable films. If you're a fan of the animated films that came from the Disney Renaissance (The Little Mermaid, Aladdin, The Lion King, etc) and are curious about how it all came to be, this documentary is a must-watch.
Waking Sleeping Beauty is an inspirational story that shows how hard work turns many situations around. It gives a fascinating look at these Disney animators and their teamwork. It created an even bigger Disney empire. Waking Sleeping Beauty is available to stream on Disney+. Stream it HERE.
The emphasis on telling diverse, spectacular stories is a major component that all these documentaries share . I hope that 2020 brings even more great stories and documentaries of them.
Your Daily Blend of Entertainment News
Spent most of my life in various parts of Illinois, including attending college in Evanston. I have been a life long lover of pop culture, especially television, turned that passion into writing about all things entertainment related. When I'm not writing about pop culture, I can be found channeling Gordon Ramsay by kicking people out the kitchen.