Tom Hanks Says He's Pretty Calm About Death Even While Facing COVID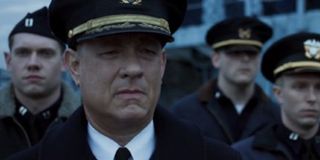 When the world learned that beloved actors Tom Hanks and Rita Wilson contracted COVID-19 in Australia while Hanks was filming the Elvis Presley biopic, it's safe to say most everyone was pretty shaken about it. Tom Hanks, however, seemed to take it in stride and recently said he was pretty calm about the prospect of death even with underlying health conditions and dealing with the coronavirus.
Tom Hanks' just released his latest movie, Greyhound, a movie he wrote. Of course, he also stars in the film as World War II Captain Krause, a Navy Captain leading a convoy that's being hunted by Nazi U-Boats. Hanks recently spoke with The Guardian about the film, as well as his experience with COVID-19. Despite the dangers, he seemed calm. Here's what he had to say:
While they were in quarantine, Tom Hanks said he had mild symptoms in comparison to Rita Wilson, but that he was wiped most of the time. Of course, eventually, Tom Hanks recovered from the infection, and both he and Wilson returned to the United States.
Since then, Tom Hanks has been fairly vocal about his experience. He's also made his thoughts clear about people that don't wear a mask, saying it's common sense to wear a mask, wash your hands and social distance.
However, he also has gone several steps further and helped in the fight against the virus by donating plasma. Not only did donate plasma once in April, but he went back for a second round in May and said donating was about as easy as taking a nap.
During the quarantine, Tom Hanks has remained fairly busy. He hosted an "At Home" episode of Saturday Night Live with a hilarious monologue, gave a commencement speech for Wright State University and appeared in a Josh Gad Splash reunion.
While Tom Hanks is calm about the prospect of death, he was notably distraught by the unfortunate release of his latest movie. Originally Greyhound was set to arrive in theaters back in June, but like many other movies lately, its theatrical release was scrapped, and it released on Apple's streaming service, Apple TV+, instead. This turn of events notably broke Tom Hanks' heart, as he'd hoped Greyhound would get the cinema experience it originally planned to have.
Don't forget to read CinemaBlend's Greyhound review and keep checking back in for all the latest in movie news.
Your Daily Blend of Entertainment News