Mickey Rourke Reignites Feud With Robert De Niro In Scathing Post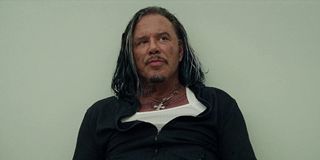 If you didn't already know, Mickey Rourke and Robert De Niro have supposedly had a 30-year-long feud with each other. It first started on the set of 1987's Angel Heart. Allegedly, Robert De Niro said to Mickey Rourke, "I think it's better if we don't talk." The feud hasn't stopped since and now things between the two seem to be heating up.
Mickey Rourke recently took to social media from a now-deleted Instagram post to call out Robert De Niro for saying Rourke was a liar. If you want to see how scathing the feud has become, here's Mickey Rourke's own words:
These are some very strong words from Mickey Rourke. It's easy to see how a long-time feud could boil over into something like this. However, this isn't exactly coming out of nowhere, and had recently been reignited by The Irishman.
The Expendables actor claimed that he was considered for a role in The Irishman, but said his chances for the role were foiled by Robert De Niro. Mickey Rourke said Robert De Niro refused to work with him. According to Independent, Rourke later said that getting the role on The Irishman would have helped him since he "needed the money."
However, things get a bit more complicated with Mickey Rourke's story. In response to his claims, The Irishman producers Jane Rosenthal and Emma Tillinger Koskoff, as well as casting director Ellen Lewis, all denied them, saying (via Indiewire):
There's no doubt this is a difficult situation. Regardless of who is right, it's unlikely to settle the bad blood between Robert De Niro and Mickey Rourke. And, for Mickey Rourke's part, it's not the only time he's had a feud.
In the past, Mickey Rourke, who played villain Ivan Vanko in Iron Man 2, voiced his frustration with Marvel, saying, in part, "I'm not a Marvel fan." At the time, he wanted to add dimension to his character in Iron Man 2, but when push came to shove, Marvel decided to cut most of his scenes. So, it makes some sense why he might be upset.
Perhaps one day Mickey Rourke and Robert De Niro can find a way to bury the hatchet and move on from their feud. As always, stay tuned to Cinema Blend for the latest movie news, including if this particular hatchet ever finds its way underground.
Your Daily Blend of Entertainment News