Godzilla Vs. Kong Concept Art Finally Shows The Titans Colliding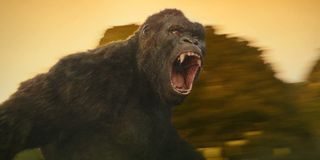 Since the release of 2014's Godzilla and 2017's Kong: Skull Island, fans of the two wildly popular titans have waited in anticipation to see their favorite over-powered monsters collide in the upcoming Godzilla vs. Kong movie. While they might have to wait a bit longer for the movie, they can now get a taste of what things might look like in this concept art of the titans going toe-to-toe.
A MonsterVerse fan recently shared a piece of concept art of Godzilla and King Kong about to fight each other on top of an aircraft carrier. It's about as epic as you might expect and then some. Check it out:
This depiction of Godzilla and King Kong is about as classic as ever. Kong's swinging a right hook while Godzilla looks like he might go for the belly. All the while, humans are hopelessly pelting them with bullets. Giant monsters aside, I have a hard time believing an aircraft carrier could realistically hold both titans without capsizing. But, hey, weirder things have happened in the Godzilla universe.
Sadly, MonsterVerse fans, who have patiently waited to see these two behemoths fight each other on the big screen, will have to wait a bit longer. Originally, Godzilla vs. Kong was slated to release on November 20, 2020. But due to current events, its release date has been pushed back to May 21, 2021.
While Godzilla and Kong's bout for the ages will be a prime focus of the movie, there is, of course, more to the story. From the little that we know, Monarch operatives will try to find the origins of the Titans and also uncover a plot to kill all the monsters entirely. Additionally, it's reported that the story may be tight, as someone from a test screening claimed the movie was only 1 hour and 45 minutes long.
Godzilla vs. Kong is the MonsterVerse's ultimate crossover event and will see the return of many of the key actors, including Kyle Chandler and Millie Bobby Brown from Godzilla: King of the Monsters as well as Corey Hawkins who played Dr. Houston Brooks in Kong: Skull Island.
Since Michael Dougherty's Godzilla: King of the Monsters underwhelmed critically and at the box office, there's been concern among fans that Godzilla vs. Kong might follow suit. However, Baby Driver actress Eiza González reassured fans that she thinks they're going to love it. She also seems to have faith in director Adam Wingard, saying he's "so talented."
Known for horror movies like You're Next and The Guest, Adam Wingard certainly has a history of scaring audiences and perhaps he can carry that same skill into the Godzilla vs. Kong. But, while fans wait for its release, Adam Wingard has been having fun teasing them on social media with cryptic messages.
Godzilla vs. Kong has been rated PG-13 with intense sequences of creature violence/destruction and brief language. Sounds about right. There's no trailer in sight just yet, but stay tuned to Cinema Blend for all the latest news.
Your Daily Blend of Entertainment News
Thank you for signing up to CinemaBlend. You will receive a verification email shortly.
There was a problem. Please refresh the page and try again.