Why Christopher Nolan Actually Hates The Idea Of Movies Skipping The Theater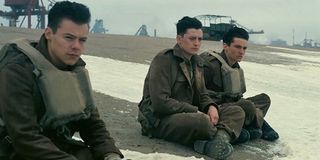 Right now the entertainment business is in a state of flux. Oftentimes big budget movies are becoming more expensive to produce, meaning the studios need a high box office intake to recoup a film's budget. In addition to the changes with theatrical releases, outfits like Netflix and Amazon have also gotten into the film game, producer lower to mid-sized budget movies for an at-home audience. However, director Christopher Nolan has long stated that he feels movies need to be produced for studios and given a theatrical run, first. In a recent interview he clarified his comments, explaining why he feels movies are for the big screen. Per Nolan,
We're currently living in an age when television is produced for a variety of platforms and reasons. Network television isn't the main outlet for TV anymore, as people head to cable, subscription cable and definitely to streaming services to view a variety of TV. The variety of TV available compared to a decade ago is astonishing, and that does lend itself to Christopher Nolan's views. Similarly, while a few films on TV and streaming services have earned good reviews and numerous eyeballs, they still don't have the power of, say, a superhero film or even Christopher Nolan's own Dunkirk, which did very well at the box office.
There's also been the idea mentioned that those involved in the backend make less money on streaming services than with the major studios. Plus, in the interview with Variety, Christopher Nolan also shared his view that the reason movies are better with a theatrical release window has to do with control over the product, which isn't as big of a component on streaming TV, where products are pushed out faster and (often) more cheaply.
To be fair, streaming services are just now pushing into the movie business, and both Netflix and Amazon started on a small scale before taking on some bigger budget projects. Now, Netflix especially is working on producing films with bigger budgets and on more of a theatrical scale. The most noticeable of these upcoming projects is probably Netflix's Bright, which was produced on a $90 million budget and should be a bold take on urban fantasy. The trailer has already been released for that flick, and shows a movie that should be taking chances.
Closing out, Christopher Nolan concludes that the new release window from movies, away from the eyes of critics and without the big screen promise is similar to straight-to-video films.
So, for Nolan, movies that are made for television and streaming don't quite have the sanctity of movies made for the theater. Some directors are clearly on his side and have spoken out saying they would prefer to keep working on projects that will go to the big screen. Other directors, including Okja's Joon-ho Bong, Bright's David Ayer and even The Meyerowitz Stories' Noah Bombach have happily headed to the new medium. We'll see if it's a trend that continues to become a bigger deal or if the movie theater will continue to be the first way to see theaters.
This poll is no longer available.
Amazing Race & Top Chef superfan with a pinch of Disney fairy dust thrown in. If you've created a rom-com I've probably watched it.
Your Daily Blend of Entertainment News
Thank you for signing up to CinemaBlend. You will receive a verification email shortly.
There was a problem. Please refresh the page and try again.