Midnight Sun: 6 Things We Hope To See In The New Twilight Book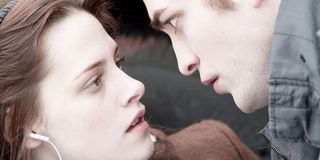 (Image credit: (Summit))
Is your emo-phase-self pinching you yet? Stephenie Meyer's long-awaited fifth Twilight book Midnight Sun is hitting shelves very soon. And for the first time in almost a decade, fans of the vampire romance will have a chance to come out of hiding and sparkle in the sunlight. Talk of the novel's release dates all the way back to 2008 when a draft of the first twelve chapters of Edward's POV of the Twilight story was leaked. The author initially cancelled the book way back when, but now she's finally giving fans a deeper look into the story that began a cultural phenomenon.
Ahead of the book's release this August (opens in new tab), let's sink our teeth into the aspects of Midnight Sun we are most curious for the book to answer after refreshing our memories of the events of Twilight. Here's what we hope to see from the forthcoming novel:
Edward's First Impressions Of Bella Swan
Midnight Sun is expected to retell the events of Twilight from Edward Cullen's perspective instead of Bella's, which means we'll get to experience the story from the POV of an over-100-year-old vampire instead of a teen girl. One pivotal moment in the book was Bella's first encounter with Edward in the cafeteria where Jessica introduces the Cullens to her from afar and she feels him watching him intently. Once she goes into her biology class, they become partners, but he is incredibly awkward around her and ends up storming off to switch classes.
Of course we find out later that Edward's behavior had to do with his struggle to read her mind and being pained by her incredible scent. But, we can't wait to get a more detailed inner dialogue about Edward's first interactions with Bella. Is it love at first sight? Or is he appalled by her?
All The Spicy Details Of Edward's Mind Reads
Reading Twilight from Edward Cullen's perspective is especially exciting because we'll be inside the head of someone who can get into everyone's head – except for Bella's but we've read that already anyways. In the original book, Edward would always allude to hearing what this person and that person is thinking including Jessica, Bella's dad Charlie or his adopted sister and fellow vampire Alice, who can see the future.
Midnight Sun will presumably allow fans to get all the juicy details about what those around Forks feel about Edward, Bella and the situations they find themselves in. We hope Stephenie Meyer really uses this device at her disposal in a clever way, whether it be through comedic means of what high schoolers really think about, to important plot details such as how the sick mind of James decides to hunt Bella or how his family feels about his constant mind reading.
More About The Cullens' At-Home Life And Hunting Trips
Sorry to break it to you Bella, but your future vampire in-laws were always a lot more interesting than you were. Although the entire saga steadily gave fans more insight into what it's like to be a vampire in Stephenie Meyer's world, there's nothing quite like learning from the perspective of one who has been maintaining the lifestyle for a long time. Much of Twilight revolves around the mystery about what Edward and his family is doing when Bella is not there.
Going into Midnight Sun, we want more details about the daily life of a Cullen in their home and when they go on those hunting trips. The upcoming novel has a real chance to really dive into the front and back of their lives as vampires in an intriguing way. For example, we know Jasper is a newer "vegetarian" in the clan. How are they training him and what inside discussions were had when Bella entered into the mix.
Tensions Between The Cullens And Quileute Tribe
Another intriguing dynamic in Twilight is the opposing clans of the Cullen family and Quileute Tribe, aka Team Edward versus Team Jacob. Now this relationship is obviously a massive part of the saga and has defined it in a lot of ways. But we never really get a sense of Edward's thoughts on the whole thing exclusively from his perspective. The Quileute Tribe are not a significant part of the first book, but we hope Midnight Sun does fit in some elements of their tensions.
Midnight Sun is reportedly the final book in the Twilight series and we'd love to see more from the werewolf pack before the chapter is completely shut on this world. Perhaps while the Cullens are hunting they come into contact with some of the werewolves? Maybe Jacob and Edward's ties run deeper than we think?
More Lore About The Cullen's History As Vampires
Something else Midnight Sun could clear up more in depth is the Cullen Clan's past from a more firsthand perspective. As Bella notes in the original Twilight book, Edward may not be giving her the full story about him and his family's history because part of him doesn't want to completely scare her off. Midnight Sun could take us back through those moments where Edward tells Bella what happened and make it clear to us what he may be left out for later in order to protect her.
Midnight Sun could also talk through Edward's own past more casually as he thinks back to his own unfiltered memories of his long life. In Twilight he is undoubtedly picking and choosing what to say to the girl he is falling in love with (hey, we all do it to some degree when getting to know someone). But how much so?
Edward's True Thoughts About Turning Bella Into A Vampire
The last thing we're curious to see in Midnight Sun is Edward Cullen's thoughts regarding how to handle his budding love with Bella. When she is attacked by James, Edward has the option for a moment to allow her to become a vampire but he instead sucks the venom out and allows her to remain human. By the end of the book, Bella says she is ready to become a vampire at the high school prom but Edward refuses to allow her to.
That's cute and all, but does he really believe this or is he putting on a front in order to save her from his fate? We're especially curious about Edward's thought process on staying with her instead of moving out of Forks and how Midnight Sun itself will leave the characters. Will we get the same ending or will it expand on the story in a legitimate way?
What do you think? Will you be picking up a copy of Midnight Sun after we've laid out our biggest hopes for the upcoming novel? Vote in our poll below and stay tuned here on CinemaBlend for more Twilight coverage.
This poll is no longer available.
Your Daily Blend of Entertainment News
YA genre tribute. Horror May Queen. Word webslinger. All her writing should be read in Sarah Connor's Terminator 2 voice over.
Your Daily Blend of Entertainment News
Thank you for signing up to CinemaBlend. You will receive a verification email shortly.
There was a problem. Please refresh the page and try again.