Fantastic Beasts Dan Fogler Talks Losing 100 Pounds Ahead Of Second Movie And How He Did It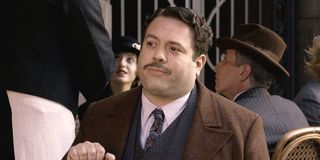 Fantastic Beasts' Jacob Kowalski's status as a no-Mag makes him one of the more distinctive characters in the franchise. However, he may catch fans of the Harry Potter spinoff's eyes in a whole new way when the third film hits theaters, because Dan Fogler, the actor who plays him, has seriously slimmed down over the past few years. In fact, between the first movie and Fantastic Beasts: The Crimes Of Grindelwald, he started dropping what would ultimately be 100 pounds.
It will still be a little while before we can see the Fantastic Beasts gang back in action again. But Dan Fogler has stayed busy in a few ways, such as making an appearance in The Walking Dead, and fans have noticed the change in his appearance on both the big and small screen. Dan Fogler recently revealed the steps he initially took to lose weight -- and they included giving up some of his go-to comfort foods:
Dan Fogler admitted to Lauren Francesca that he's like a lot of us, and the COVID-19 pandemic has meant that he's gained back a bit of what he initially lost, but in general he's figured out ways to be happier and healthier with his diet.
However, his ultimate weight loss results are pretty incredible -- and that they were so drastic he actually ended up getting some unexpected reactions:
So it's safe to say that when we see Jacob Kowalsi in Fantastic Beasts 3, he'll still be looking pretty good, though perhaps not where he was at at peak weightloss. How, or if, that will play into his storyline remains to be seen, but we'll find out when the movie hits theaters. It's currently scheduled to do that in February 2021.
Your Daily Blend of Entertainment News