One Spider-Man Actor Would Love To Play A Villain In Doctor Strange 2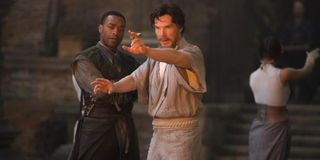 One of the more exciting things to learn about a superhero project, like Doctor Strange 2, isn't what the heroes have been up to but who the hero will eventually do battle with. So far, details have been slim about the villain of Doctor Strange in the Multiverse of Madness, but one Spider-Man actor has stepped forward to say that he'd love to play one particular villain in the highly anticipated sequel.
Several Marvel actors came together for a Wizard World virtual interview, hosted by Fandom Spotlite on their YouTube channel. When asked what Marvel villain they would love to play, longtime Spider-Man voice actor Christopher Daniel Barnes stepped forward and threw down an epic answer. Here's what he said:
I don't think Christopher Daniel Barnes should cast his chances of playing the famous Doctor Strange villain aside so quickly. He has a long history of voice acting work, including playing Peter Parker/Spider-Man in the beloved '90s TV show Spider-Man: The Animated Series. More recently, he's voiced Max Dillion/Electro in Ultimate Spider-Man and the Spider-Man Unlimited video game. So yeah, he's got some solid voice acting chops.
And he's not wrong that Nightmare would likely require plenty of voice over work paired with CGI. In the comics, Nightmare, who also happens to be one of Doctor Strange's earliest villains, is a Fear Lord and ruler of the Dream Dimension. He torments people in their dreams and, in order to become more powerful, he draws psychic energy from it as well.
Believe it or not, Christopher Daniel Barnes is in good company when it comes to wanting Nightmare in the sequel. Both Doctor Strange writer C. Robert Cargill and director Scott Derrickson expressed a desire for Nightmare to appear as the villain in the sequel. However, since Derrickson is no longer helming the film and Cargill is no longer writing (Sam Raimi is directing and Michael Waldron is penning the script), it's hard to say if Nightmare will make an appearance or not.
What we do know is that the movie will allow fans to rejoin the eventual Sorcerer Supreme and will involve Scarlet Witch and likely Karl Mordo. If you recall, Karl Mordo, played by Chiwetel Ejiofor, was on bad terms with Strange when they parted ways, and he'll likely serve as at least one of the sequel's antagonists.
Of course, we all know Marvel hasn't shied away from using multiple villains in a single film and, since Doctor Strange and the Multiverse of Madness will be horror-centric, it's very possible that Nightmare could come into play. But what do you think? Do you want Nightmare to appear in the Doctor Strange sequel? Let us know in the poll and comments section below!
This poll is no longer available.
Your Daily Blend of Entertainment News
Your Daily Blend of Entertainment News
Thank you for signing up to CinemaBlend. You will receive a verification email shortly.
There was a problem. Please refresh the page and try again.