Not Even Wonder Woman 1984's Kristen Wiig Was Allowed To Photograph Her Top Secret Cheetah Costume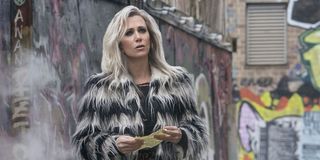 Even though Wonder Woman 1984 might be hitting theaters on October 2, the studio has done a fairly good job keeping a tight lid on production leaks. A character they're especially keeping top secret is Kristen Wiig's villain Cheetah. While we've learned a bit about her, they have yet to reveal her in costume. And as it turns out, this is intentional; they didn't even let Kristen Wiig photograph herself on set.
Kristen Wiig recently interviewed with InStyle about her role as Cheetah in Wonder Woman. She tested for the film in secret and hit it off with director Patty Jenkins. Things on set were just as secretive and controlled with rules against photography. Here's what she had to say:
One of the biggest question marks surrounding Wonder Woman 1984 has been Kristen Wiig's Cheetah and how she'll end up as a villain to Gal Gadot's Wonder Woman. So far, in the Wonder Woman 1984 trailers, they've focused entirely on Barbara Minerva and how she might transform into the villain. But, obviously, DC fans have been chomping at the bit to see Cheetah in full costume.
That's not to say there hasn't been plenty of rumors, Halloween costumes, and small sneak peeks at what she might look like. Plus, back in June, a sticker pack of Wonder Woman 1984 appeared online, featuring a close up of Kirsten Wiig's Cheetah. It's a little hazy, but it still gives us one of the best pictures of her makeup and costume.
While we don't exactly what comic incarnation of Barbara Minerva/Cheetah she'll be playing, we do know that Kristen Wiig's Cheetah will start out as Diana Prince's friend. When we meet her, she'll be a colleague of Wonder Woman, but eventually evolves becomes more powerful in her own right.
Of course, all the studio secrecy is to prevent spoilers from leaking to the public and ruining the movie for fans. Warner Bros. has clearly gone to great lengths to keep everything under wraps and done a fairly good job of it, too. Even Kirsten Wiig admitted that no one really knows anything about the movie and that it's amazing nothing has leaked.
I'd wager most superhero fans want to keep it that way, too. Since the movie experience can live or die on story details, many fans have gone to great lengths to avoid any potential spoiler information about their favorite movies. With that said, it's probably for the best we haven't seen Cheetah just yet; her big reveal might play better in the movie anyway.
Your Daily Blend of Entertainment News
Your Daily Blend of Entertainment News
Thank you for signing up to CinemaBlend. You will receive a verification email shortly.
There was a problem. Please refresh the page and try again.