Why Kristen Wiig As Cheetah In Wonder Woman 2 Makes Sense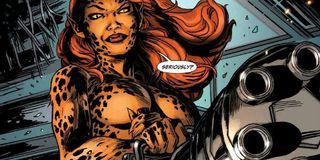 A hero is only as good as his or her villain, and Wonder Woman 2 is shaping up to create an awesome conflict for Gal Gadot's Diana Prince. Many fans had assumed that Cheetah would be the bad guy to follow the appearance of Ares (David Thewlis) in the first Wonder Woman movie, but many were surprised by the announcement of Bridesmaids star Kristen Wiig as the beloved baddie. It's definitely an unconventional choice, but casting Wiig as Barbara "Cheetah" Minerva also makes perfect sense because it will help Wonder Woman 2 avoid one of the superhero genre's notable pitfalls: making the villain too similar to the hero.
To get a better understanding of this issue, we need to acknowledge one consistent criticism that we have seen leveled at villains in the comic book movie genre -- on the DC side, as well as the Marvel side. Over the last few years, we have seen a regular fan complaint arguing that many villains are simply mirrored images of the hero. Between the battles of Superman (Henry Cavill) and Zod (Michael Shannon) in Man of Steel, and the showdown between T'Challa (Chadwick Boseman) and Killmonger (Michael B. Jordan) in this year's Black Panther, it's clear that superhero movies do need to make sure that their heroes and villains have distinct personalities and come from unique points of view.
That's why the casting of someone like Kristen Wiig as Cheetah seems so interesting. The villainess' powers and fighting prowess make her an even match against someone like Diana Prince in a brawl, but from a personality perspective, she offers something entirely different than Gal Gadot. Wonder Woman's star is an Israeli-born model and action movie heroine whose work as the Amazonian hero has been largely defined by her non-verbal physicality in the role. By contrast, Kristen Wiig is an American comedian who has made a name for herself by portraying fast-talking, goofy characters in movies like Ghostbusters and Sausage Party, in addition to numerous dramatic turns in smaller indies like The Skeleton Twins or Friends with Kids.
When looking at their resumes side-by-side, the distinction between Gal Gadot and Kristen Wiig (and what they bring to the table) couldn't be more apparent. With Gadot's Diana Prince, audiences get a strong, quiet and regal heroine with an exotic sense of nobility. Wiig brings a sense of comedic timing and an everywoman sensibility that helps hammer home the idea that Barbara Minerva was tragically transformed into the Cheetah. It's not that she's naturally built to be a badass villainess in the way that actresses like The Mummy's Sofia Boutella or Mad Max: Fury Road's Charlize Theron are. She's not what many people expect when they think of a supervillain, which underscores the tragic nature of her eventual transformation into one.
Also, looking ahead at the rest of the DCEU films that are in development, a Kristen Wiig Cheetah seems like the right type of fit for the overarching DC universe that's being created. The ending of Justice League implies that idea that Lex Luthor (Jesse Eisenberg) is creating a Legion of Doom to stand against the superhero team, and Cheetah is a longtime member of that particular evil organization.
If Cheetah proves popular with fans in Wonder Woman 2, then keeping Wiig in the role for a future Justice League movie arguably seems like a no-brainer. Between more straight-laced, male bad guys like Joe Manganiello's Deathstroke, Yahya Abdul-Mateen II's Black Manta (who will debut in this year's Aquaman) and whoever DC ends up casting for Reverse-Flash in Flashpoint, many of these villains play to similar character beats. By injecting someone with the comedic timing and personality to add some depth to the villainous ensemble, Wiig can help create a villain roster that's just as diverse and interesting as the hero lineup.
Only time will tell if Kristen Wiig will turn out to be the right choice to portray Cheetah in Wonder Woman 2, but it's clear that the rationale behind the casting decision seems sound and promising. As for the film itself, make sure to keep an eye out for Wonder Woman 2 when it debuts in theaters next year on November 1, 2019.
This poll is no longer available.
Your Daily Blend of Entertainment News
Originally from Connecticut, Conner grew up in San Diego and graduated from Chapman University in 2014. He now lives in Los Angeles working in and around the entertainment industry and can mostly be found binging horror movies and chugging coffee.