Seth Rogen Explains How Marvel Movies Have Changed The Comedy World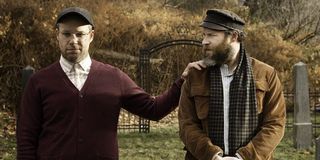 It's obvious that Marvel movies have changed the cinematic landscape for good, inspiring a number of other cinematic universes (Dark Universe, anyone?) and irrevocably altering the genre. However, not too many talk about how they've also changed the comedy world, something Seth Rogen recently spoke about.
To promote his latest movie An American Pickle, about a man stuck in pickle brine for 100 years, Seth Rogen spoke with GamesRadar+. Eventually the subject changed to the state of mid-sized comedy movies, especially since many have been heading straight to VOD, like The King of Staten Island. Meanwhile other projects have just been delayed like Wonder Woman 1984. Interestingly, Seth Rogen pivoted this point by arguing that comedies are alive and well in Marvel movies. Here's what he said:
He's not wrong. While DC movies have had a track record for being dark, Marvel movies have increasingly leaned in to light-hearted comedy. The Thor movies are a great example. The first two movies showcase a serious tone with occasional humor, while Thor: Ragnarok flips the script and doubles down on comedy, with gag after gag.
You can see Seth Rogen's point. The notion that comedy movies are dying might be the wrong way to look at it. Maybe Marvel has just totally changed how audiences view comedies in the first place? To Seth Rogen's credit, he sees that as a good thing and a bar to strive for.
On the other hand, with decades of comic material and a long-time loyal fanbase, Marvel movies have a unique position that many other comedy movies would struggle to live up to. Plus, while Marvel promises comedy in their movies, they also have drama, intense action scenes, and incredible special effects. So, yes, they are comedies, but they also offer audiences much more.
Nevertheless, it is still surprising that comedies have been increasingly flocking to VOD and streaming. Some, like Palm Springs and The King of Staten Island, have been warmly received by critics and likely could have a solid run at the cinema. Perhaps it's the uniqueness of the current time we are in or Marvel movies have made it impossible for mid-sized comedies to compete. Either way, I'm hopeful when all is said and done that comedies can make a comeback to the theater.
Your Daily Blend of Entertainment News
Your Daily Blend of Entertainment News
Thank you for signing up to CinemaBlend. You will receive a verification email shortly.
There was a problem. Please refresh the page and try again.