What To Watch On Streaming If You Love The Umbrella Academy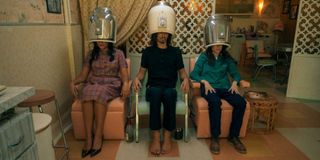 CinemaBlend participates in affiliate programs with various companies. We may earn a commission when you click on or make purchases via links.
The Umbrella Academy released its second season in July, and it's just as crazy as expected. The Umbrella Academy Season 2 brought us plenty of shocking moments, unexpected character reveals, and the groundwork for a potential Season 3. This new season of the show really upped the game of the series and gave us an exciting ten episodes.
Ten episodes are not nearly enough for the average fan, because of course, we binged all of them within a few days, and now we have to wait who knows how long for another season. But worry not Umbrella Academy enthusiasts, there are plenty of series and movies that might make the wait for a possible season three a lot more manageable.
Orphan Black (Amazon Prime Video)
Orphan Black ran for five seasons on BBC America and starred Tatiana Maslany in a variety of roles. This sci-fi series focused on a set of women who discover that they're clones and that there is a much bigger conspiracy at work. Beyond being a great show, it was basically a way to showcase her incredible character acting skills.
Why It's A Good Option for The Umbrella Academy Fans: Orphan Black is a lot more serious than The Umbrella Academy, but they both deal with a group of unconventional siblings. They explore how families develop, bond, socialize, and build an unbreakable foundation. Umbrella Academy and Orphan Black also are TV shows that live in a genre world between sci-fi and fantasy.
Stream it on Amazon Prime here.
Charmed (Netflix)
This Charmed suggestion applies to both series. The 1998 one that ran for 8 seasons and originally starred Holly Marie Combs, Alyssa Milano, and Shannen Doherty, later Rose McGowan replaces Doherty, and the reboot starring Sarah Jeffery, Madeleine Mantock, and Melonie Diaz. Both versions have the same premise: a trio of sisters discover that they're witches and have powers.
Why It's A Good Option for The Umbrella Academy Fans: In the original series, Phoebe (Alyssa Milano) was a little estranged from her other sisters, but returned home, which set in motion the news about their powers. The 2018 Charmed girls discover that they have an older sister, Macy (Madeleine Mantock). The estranged dynamic is also one that runs through Umbrella Academy. Each series highlights that each sibling has their own unique power, but they're most powerful when they're working together.
Stream it on Netflix here (original, reboot).
Shazam! (HBO Max)
Shazam! is a DC Universe comic-book movie about an orphaned boy Billy Batson (Asher Angel) who is chosen by the ancient wizard Shazam to become his champion. His new powers allow him to transform into the powerful Shazam champion (Zachary Levi).
Why It's a Good Option for The Umbrella Academy Fans: One of the major overall pieces of Shazam! is Billy learning to accept and embrace his new family. He tries not to bond with his new siblings and foster parents, but by the end of the film, he sees how necessary they are for him to succeed as a superhero.
Stream It on HBO Max here.
Legends of Tomorrow (Netflix)
Legends of Tomorrow is a DC Comics series that follows a various group of superheroes and villains as they travel through time to fight enemies and whatnot.
Why It's A Good Option for The Umbrella Academy Fans: Legends of Tomorrow and Umbrella Academy have quite a bit in common, including their adventures throughout time, a rag-tag bunch of superheroes, and a blending of goofy comedy and serious drama. The Umbrella Academy gets away with a bit more graphic violence than Legends of Tomorrow, which may make Legends a good option if you want fewer fish murders.
Stream It on Netflix here.
Runaways (Hulu)
Runaways is a Marvel comic TV series about a group of friends who discover that their parents are part of an evil organization and that they all have superpowers. This Hulu original series ran for three seasons.
Why It's a Good Option for the Umbrella Academy Fans: Despite various romantic entanglements, the children bond and become like siblings through all of this craziness with evil parents, secret societies, and powers. Sir Reginald Hargreeves (Colm Feore) isn't technically a villain but he easily falls in line with the evil parent category, but he's a lot brighter and more sophisticated than the Runaways parents.
Stream it on Hulu here.
X-Men: Days of Future Past (Disney+)
X-Men: Days of Future Past is a 2014 Bryan Singer film that brings together both versions of several X-Men movies. The X-Men must travel through time to change history, which leads to interactions with different versions of characters like Magneto and Professor X. X-Men: Days of Future Past cast includes Hugh Jackman, James McAvoy, Michael Fassbender, Jennifer Lawrence, Patrick Stewart, and Ian McKellen.
Why It's a Good Option for the Umbrella Academy Fans: Technically, all X-Men movies are a good option if you like Umbrella Academy, because of the similar concept of people with powers. However, X-Men: Days of Future Past deals with time-traveling, which is a major theme of Umbrella Academy, especially in Season 2. They also both have Ellen Page in them, so if you're a Page stan, this is your time to be alive.
Stream it on Disney+ here.
Supernatural (Netflix)
Supernatural is a CW series that ran for 15 seasons. It follows Dean Winchester (Jensen Ackles) and Sam Winchester (Jared Padelecki) as they investigate and hunt several demonic and supernatural beings. The Winchesters come from a long line of demon hunters.
Why It's A Good Option for The Umbrella Academy Fans: The Umbrella Academy and Supernatural both have a nice blend of comedy and drama. These series try to be serious when necessary but have fun with the premise of crazy creatures. Supernatural and Umbrella Academy are also both series that have an array of fascinating recurring characters, though Umbrella Academy is still building that library. Each show has also dealt with at least one sibling losing his or her way and turning towards the dark side.
Stream it on Netflix here.
The Boys (Amazon Prime)
The Boys is a superhero series about a group of vigilantes that work to destroy and kill Supes, a group of corrupt superheroes. The Boys cast includes Karl Urban, Jack Quaid, Anthony Starr, and Erin Moriarty.
Why It's A Good Option for Umbrella Academy Fans: The Boys and Umbrella Academy are two shows about superheroes based on comics that don't exist in the DC and Marvel worlds. This allows them to be bloodier, raunchier, and more critical of the idea of superheroes and superhero worship. Both series also use the superhero world to address questions and problems facing modern America.
Stream it on Amazon Prime here.
Agents of S.H.I.E.L.D (Netflix)
Agents of S.H.I.E.L.D is a Marvel TV series that focuses on the S.H.I.E.L.D department of the government. They focus on strange and paranormal related cases. Agents of S.H.I.E.L.D's cast includes Ming-Na Wen, Chloe Bennet, Clark Gregg, Iain De Caestecker, and Elizabeth Henstridge.
Why It's A Good Option for Umbrella Academy Fans: Umbrella Academy and Agent of S.H.I.E.L.D are shows that deal with characters who are forced to work together, and things may start off rough, but they eventually find their groove and become a cohesive-ish unit. Both series also deal with extreme secret organizations that try to control lives.
Stream it on Netflix here.
Misfits (Hulu)
Misfits is a TV series about a group of young offenders sentenced to community service. They are struck by lightning and develop powers. Misfits' original cast consists of Nathan Stewart Jarrett, Iwan Rheon, Lauren Socha, Antonia Thomas, and Robert Sheehan.
Why It's A Good Option for The Umbrella Academy: Both series have Robert Sheehan playing wacky characters, and they have a similar tone. Misfits and Umbrella Academy are both strange, funny, have a ton of fascinating characters, and embrace the oddness of a world where people with powers exist.
Stream it on Hulu here.
Raising Dion (Netflix)
Raising Dion is a superhero show about a woman, Nicole (Alisha Wainwright) raising her son Dion (Ja'Siah Young) alone after the death of her husband Mark (Michael B. Jordan). Being a single mother becomes more complex when Dion starts to manifest and develop powers.
Why It's A Good Option for Umbrella Academy Fans: The Umbrella Academy deals with a group of dysfunctional adults with powers, Raising Dion is about a child trying to make sense of his powers. The Umbrella Academy often flashes back to when the main characters were children trying to adjust to their powers and their bad parental figures. If the aspects of Umbrella Academy that deals with their younger selves interest you, then Raising Dion might be a show to add to your watchlist.
Stream it on Netflix here.
These eleven shows and movies should make the wait for the next Umbrella Academy's potential next season a lot less long. However, there are plenty of other superhero TV shows and movies out there if you end up binging these ones quickly as well. And it's never a bad idea to just rewatch both seasons of The Umbrella Academy again.
Spent most of my life in various parts of Illinois, including attending college in Evanston. I have been a life long lover of pop culture, especially television, turned that passion into writing about all things entertainment related. When I'm not writing about pop culture, I can be found channeling Gordon Ramsay by kicking people out the kitchen.