Will Jamie Foxx's Project Power Get A Netflix Sequel? Here's What The Writer Says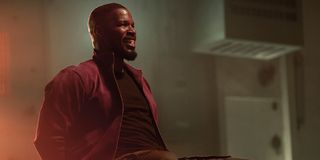 Jamie Foxx's Project Power just released on Netflix this weekend, and the superhero movie has already hit #1 on Netflix's Top 10 list. Though Project Power seems to end conclusively, many have wondered if the Netflix movie will get a sequel. Well, writer Mattson Tomlin has some thoughts.
Mattson Tomlin has seen a massive rise in Hollywood, having written the screenplays for Project Power and Matt Reeves' The Batman. He may also work on a Mega Man project as well. In regard to Project Power, Mattson Tomlin has high hopes that he and his collaborators can proceed with a sequel, believing there's still plenty of elements within that world to explore. Here's what he had to say:
Since Project Power only just released, it'll likely be a little while before we hear anything about sequel plans, if at all. Still, if its popularity is anything like Extraction, Netflix could always fast track a sequel.
Mattson Tomlin acknowledged the fact that Project Power seems to have a pretty finite story. However, he still thinks they left plenty of things open to continue the story in other ways. While speaking with Polygon, he went on to say:
That does sound intriguing. Without getting into spoilers, Project Power did conclude its story in relatively neat fashion. However, the ending still teased that there could be some serious ramifications moving forward. All in all, it sounds like Mattson Tomlin is ready to get cracking on a second screenplay and tell that story.
Project Power is about a popular, new drug that gives people superpowers for five minutes, such as bullet proof skin. The thing is, you don't know what superpower you'll get until you take the drug. A local cop, played by Jamie Foxx ,teams up with an ex-soldier and "Power" drug dealer to stop the circulation of the drug before it's too late.
So far the reviews for Project Power have been somewhat positive, but they haven't been glowing. Still, that this wouldn't necessarily hinder the film from receiving a second installment.
But what do you think? Should Project Power get the sequel treatment? Let us know!
This poll is no longer available.
Your Daily Blend of Entertainment News
Thank you for signing up to CinemaBlend. You will receive a verification email shortly.
There was a problem. Please refresh the page and try again.