Sony's Kraven The Hunter Movie Just Took A Massive Step Forward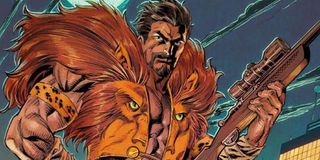 Hot off the reports that Olivia Wilde could be directing Spider-Woman movie for Sony, it looks like Sony has no intention of stopping there. Because reportedly Sony's Kraven the Hunter movie has taken another big step as well. Here's the latest.
According to Deadline, Sony is in talks with Triple Frontier director J.C. Chandor to helm the film about infamous Spider-Man baddie Kraven the Hunter. With Venom: Let There Be Carnage and Morbius underway, it looks like Sony wants to continue the trend of focusing on Spider-Man villains. However, it should be noted that Sony has not officially confirmed this news. Matt Tolmach and Avi Arad will produce the picture.
Either way, this is super exciting news for Spider-Man and Kraven the Hunter fans. The popular Marvel character with incredible hunting skills has long been a solid contender for the web-head and would make for a good villain if he were ever to crossover into a Spider-Man film. Plus, he's a member of the Sinister Six.
Kraven the Hunter has been on Sony's radar for some time. Back when Marc Webb's The Amazing Spider-Man was in full swing, the director voiced wanting to possibly include the villain in an Amazing Spider-Man 3, a movie that never got made. There's since been a variety of fan castings for the character including Jason Momoa and Joel Kinnaman.
Fast-forward to 2018 and reports came out that Sony had its eye on The Equalizer 2's writer Richard Wenk to tackle writing a stand-alone Kraven the Hunter movie, indicating that they were becoming serious about creating spin-offs in the Spider-Man universe that revolved around villains. Back then, Richard Wenk indicated that his spin-off movie would include Spider-Man.
And, to a degree, it's hard to imagine a Kraven the Hunter movie where Spider-Man isn't involved. After all, a big drive for Kraven the Hunter is proving he's the greatest hunter in the world. Spider-Man becomes the obvious challenge for the villain to prove himself. Of course, Tom Hardy's Venom didn't include Spider-Man at all and that seemed to still work out just fine. So, it might not be totally strange for Kraven the Hunter to not include Spider-Man, if it ever were to come to that.
Richard Wenk also said back then that they were circling the 1987 comic "Kraven's Last Hunt" as inspiration and could possibly split the movie up into two parts, similar to Kill Bill. In that comic, Kraven the Hunter defeats Spider-Man and puts on the hero's costume to prove he'd be a better vigilante. But, with so much time passing, and very little news, it's hard to say if any of this is still in the works.
With a new director possibly hopping into the director's chair for a Kraven the Hunter movie, the next big question would be who is going to star as the titular villain? Well, earlier this year, fans have already put one possible candidate in the ring, and that is none other than Aquaman himself, Jason Momoa. And, I have to admit, he looks the part and would likely fit the character's personality like a glove, but we'll have to just wait and see who Sony chooses to portray him. Stay tuned to CinemaBlend for more movie news.
Your Daily Blend of Entertainment News
Thank you for signing up to CinemaBlend. You will receive a verification email shortly.
There was a problem. Please refresh the page and try again.