Shaquille O'Neal's Best Contributions To Movies, TV, Music And Video Games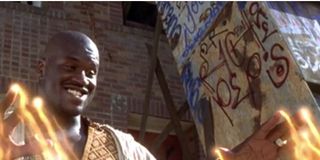 Uh, uh, Shaq Diesel. The one and only Shaquille O' Neal will likely always be remembered most for his championship run for the L.A. Lakers with Kobe Bryant (R.I.P.) and his one ring with the Miami Heat. But if you ask a lot of non-hoops fans, he will also be remembered for his many contributions to television, movies, and music (And video games!).
And that's what I want to talk about today. Because as much as I've always loved Shaq's dominant basketball career, I've always found his personality to be his biggest strong suit. And it's kind of crazy just how long Shaq has been putting himself out there in front of the camera and behind the microphone, because it's seriously been ages. Here are just some of his many contributions to entertainment. Shaq Diesel in the house.
Blue Chips
Directed by The Exorcist's William Friedkin, and starring Nick Nolte as a struggling college coach, Blue Chips is all about the illegal practice of pretty much buying off talented high school-age players with incentives in order to get them to play for your college team. Shaq plays a monster under the net named Neon Boudeaux who snags rebounds like it's going out of style.
Shaq isn't the main character in the movie, but for what can arguably be seen as the basketball equivalent of 8 Mile, he does a pretty great job of showing what a good actor he could be if he actually tries.
Kazaam
Okay, let's be clear. Kazaam is not a great movie. In fact, it's probably most known today for being confused for the Shazaam movie starring Sinbad that never existed. But Kazaam certainly does exist, and Shaq plays a 3,000 year old rapping genie who materializes out of a boombox. Seriously, what's not to love?
Unlike Blue Chips, which came out in 1994, Kazaam, which came out in 1996, is peak Shaquille O'Neal. You get a sense while watching it that Shaq knows that it's not very good, but he's having a lot of fun with his raps and the ludicrous storyline that it doesn't matter. Kazaam may be a really, really bad movie, but because of Shaq, it's kind of stumbled into that so-bad-it's-awesome territory that only the select few greatest films, like Troll 2 and Batman and Robin, can become. And that's saying something.
Shaq Fu
What if I were to tell you that Shaq was in a video game? I know what you're saying. Yeah, duh. Of course he was in a video game. As dominant a player as he was, he must have been in several basketball games. But those aren't the games that I'm talking about. Instead, I'm referring to his 1994 masterpiece (yes, masterpiece), Shaq Fu, which was a fighting game featuring the one and only Shaquille O'Neal.
This game was ripped apart by critics back when it came out, and for good reason. The fighting engine is terrible, the characters (besides Shaq) are mundane, and even the music is pretty awful. It's often considered one of the worst games ever made. But like Kazaam, that just adds to its legendary appeal. Who but Shaq would allow himself to be put into A FIGHTING GAME? And not just any fighting game, but one where he's kicking mummies in the face, no less. Look, say what you will about how bad Shaq Fu plays, and I won't disagree with you. I owned the game and couldn't get past the first level. But I will also never, ever forget about Shaq Fu, and most other gamers won't, either. There was also a recent sequel of sorts in the form of Shaq Fu: A Legend Reborn, but that was a side scrolling beat'em up and nowhere near as memorable.
Shaq Commercials
Shaq is the only player I can think of (well, besides Peyton Manning) who actually makes starring in commercials an artform. Even back in the day when he was pretending to be Shaft for Burger King (grab a Shaq Pack, baby), Shaq always made commercials a lot more interesting than they had to be with him in them.
Nowadays, you'll still see Shaq doing Icy Hot commercials every now and then, even though he's been retired since 2011, and you'll also sometimes see him riding around in a car with the General in those General Insurance commercials. It doesn't matter what he's selling, though. If Shaq's in it, I'm buying. I don't even care.
Shaq's Rap Career
I have a confession to make. I own all of Shaq's rap albums. Why is this, you ask? Well, because Shaq is an amazing rapper! And I'm not even being facetious when I say that. I genuinely do like Shaq's music. He's got skillz!
And what's great about Shaq's rap career is that you get the full range of his personality in his music. His humor's there, his bravado's there, his strength is there. It's all just there. I mean, look, Shaq even has a song with Biggie called "You Can't Stop the Reign." And I don't know about you, but personally, I think Biggie is one of the greatest rappers of all time. And he's on one of Shaq's albums! So Biggie knew it, too! Shaq can spit.
Uncle Drew
Uncle Drew, which came out in 2018, is really a team effort, which is to say it's an ensemble film. It stars Kyrie Irving from a character he developed for Pepsi, and also stars the likes of Tiffany Haddish, J.B. Smoove, Mike Epps, and Nick Kroll on the actor side, and former NBA and WNBA players like Chris Webber, Reggie Miller, Nate Robinson, from the NBA, and Lisa Leslie from the WNBA. But like all of the films Shaq's in, he kind of steals the show.
The story is about putting a basketball team together of old-timers to beat the youngsters, and yada, yada, yada. The story isn't anything to write home about. But Shaq, who is always too big to miss, steals every single scene as a martial arts instructor who can also kill it on the dance floor. It's a shame that Shaq was never in Space Jam, but Uncle Drew is a pretty good substitute.
Shaq the Wrestler
How big of a contribution has Shaq had on wrestling? So big that he's appeared in the WCW, the WWE and Impact Wrestling. That's crazy! The dude's a former basketball player. What's he doing in all that wrastlin'? For the WCW, he was at the Bash at the Beach in 1994 where he accompanied Hulk Hogan. In the WWE, he's had a spat with The Big Show and also did some referee work. In Impact, well, he was just there, but he was on the program. That's something!
And the thing is, he wasn't really there promoting anything. He was just there because he loves pro wrestling and wanted to be a part of the show. And when you're larger than life like Shaq, it's not too unbelievable that he could choke slam somebody. He probably could have made a career of pro wrestling if he wanted to. I guess he just didn't want to.
Shaq Vs.
Does Shaq have a big head? You know what, I don't think so. He seems like he just likes having a good time. So when he calls himself "the greatest athlete," on his show Shaq Vs. where he competes against other athletes in their respective fields, I'm sure it's all just in good fun. How else can you explain his 0-5 record in Season 1, where he boxed Oscar De La Hoya, swam against Michael Phelps, and played football against Ben Roethlisberger, just to name a few?
And in Season 2, he took it even further, not even bothering to consider the "athlete" part of the show as he sang against Justin Bieber and had a cook-off against Racheal Ray. Like I said before, Shaq just likes having a good time.
Inside the NBA
Lastly, let's bring it back to his true passion, basketball, as he's been doing commentary on the postgame show NBA on TNT for years now. Along with Ernie Johnson, Charles Barkley, Kenny Smith, Chris Webber, and Grant Hill, Shaq provides his off-the-cuff banter, and often has the funniest comments right alongside Barkley.
But the best part of Inside the NBA were always the Shaqtin' a Fool segments, where Shaq used to make fun of JaVale McGee ("Tragic Bronson") relentlessly, until he stopped because McGee got super upset with always being called out. All the same, Shaq's personality rings true on the show and makes for some of the funniest moments ever.
And that's just some of the contributions Shaq has made to entertainment outside of basketball. Shaq is already one of the most memorable basketball players of all time (And there's an argument to be made that he's the greatest center of all time, too), but I'll always think of him most fondly as a goofball who just loves having a good time. If only all of us could live our lives like Shaq, then we'd probably all be smiling at least once every day.
This poll is no longer available.
Your Daily Blend of Entertainment News
Rich is a Jersey boy, through and through. He graduated from Rutgers University (Go, R.U.!), and thinks the Garden State is the best state in the country. That said, he'll take Chicago Deep Dish pizza over a New York slice any day of the week. Don't hate. When he's not watching his two kids, he's usually working on a novel, watching vintage movies, or reading some obscure book.
Your Daily Blend of Entertainment News
Thank you for signing up to CinemaBlend. You will receive a verification email shortly.
There was a problem. Please refresh the page and try again.