Wait, Why Did Judy Garland's Body Just Get Moved?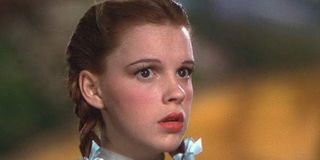 (Image credit: The Wizard of Oz)
"Toto, I don't think we're in New York anymore." The body of legendary actress Judy Garland has been moved from her resting place in New York across the country to a cemetery in Los Angeles nearly 50 years after he death. That's right; Judy Garland is coming back to Hollywood, but this time she'll be resting instead of constantly working.
Apparently, it was Judy Garland's famous daughter, Liza Minnelli, that requested the move after all this time. TMZ reported that a white cargo van picked up and transported Garland's remains from where she had been buried since 1969, Ferncliff Cemetery in Hartsdale, New York, last Thursday, and placed them in in the hold of the John F. Kennedy airport for a flight to Los Angeles scheduled for this Tuesday. Why is Minnelli going through all this trouble to move her mom's remains nearly 50 years after her death? Well, according to PEOPLE, it was her way of keeping the family together. The Ferncliff plot had apparently run out of enough room for Garland's children and grandchildren to be buried alongside, so Minnelli had it arranged that she be transferred to a more spacious plot in Hollywood.
Not only will Judy Garland's new burial place be a lot roomier, but it will also put her in some very famous company. Garland is being transferred to the Hollywood Forever Cemetery, which is well known as a resting place for several celebrities, including Jayne Mansfield, Cecil B. Demille, and Mickey Rooney. Also buried there is one of Garland's most iconic co-stars: Terry, the dog who played Toto in The Wizard of Oz.
Judy Garland's first major climb to success occurred in Hollywood back in the 1930s, when she starred in several now-classic MGM movie musicals, which culminated in her most remembered role as Dorothy in The Wizard of Oz in 1939. She would continue to find success in Hollywood for several years until her struggles with depression and drug addiction began getting her fired from prospective work. She began doing concert tours in the 1950s, and one of the highlights of her career occurred in New York after that. Garland performed a sold-out show at Carnegie Hall in 1961 that received unanimous rave reviews, and went on to be famously dubbed "the greatest night in show business history."
Sadly, Judy Garland only lived for eight more years after that Carnegie Hall performance. She was found dead of a barbiturate overdose on June 22, 1969, at the age of 47. Her funeral was held in Manhattan, and the chapel remained open all day for people to pay their respects due to the overflowing crowd.
Now, half a century later, Judy Garland is still revered as a Hollywood icon, and she's about to make her big return.
Your Daily Blend of Entertainment News
Thank you for signing up to CinemaBlend. You will receive a verification email shortly.
There was a problem. Please refresh the page and try again.