Dune: First Look At The Denis Villeneuve Reboot's Sandworms Is Spooky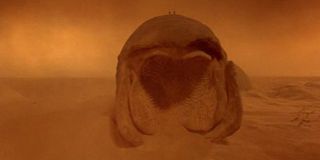 Unlike a lot of sci-fi stories that take place in other corners of the universe, one thing that the Dune mythology doesn't boast much of is aliens. The biggest exception to that are the sandworms of Arrakis, which are integral to the plot of the original Dune novel, so naturally they'll be in Denis Villeneuve's upcoming take on Frank Herbert's seminal tale.
The Arrival and Blade Runner 2049 filmmaker talked earlier this year about how he and his team spent a year designing the sandworms for the new Dune movie, and now we have our first look at one of these gigantic creatures:
Wow, that is chilling! This Empire cover does a great job of conveying just how massive the sandworms are in comparison to humans, such as Timothee Chalamet's Paul Atreides, who I assume is the figure in the above image. And those teeth! I can't imagine wanting to be anywhere near where one of those things lives, let alone riding atop them.
For those unfamiliar with the Dune mythology, sandworms, which can grow hundreds of meters long and are practically indestructible, guard melange deposits on Arrakis, with the substance being a byproduct of their natural life cycle. Melange, a.k.a spice, is one of the most coveted substances in the Dune universe, as it's able to extend a person's life span, raise mental awareness and even awaken presence in some people, though it's also incredibly addictive. So in order for the melange to keep pouring in, all interested parties must contend with the sandworms.
This first look at Dune's take on a sandworm arrives several months after Warner Bros dropped the first official photos depicting many of the movie's main characters, including Rebecca Ferguson's Lady Jessica, Oscar Isaac's Duke Leto Atreides, Jason Momoa's Duncan Idaho, Zendaya's Chani and Josh Brolin's Gurney Halleck. It was also recently reported that the first Dune trailer will drop online September 9, so maybe among that footage, we'll get to see the sandworms in action. Seeing one of those creatures rise from the sand with its ghastly mouth open would certainly be a cool way to conclude the preview.
Rather than adapt Dune into one movie like David Lynch did in the 1980s, Denis Villeneuve's Dune will cover roughly the first half of the book. Officially speaking, Dune 2, i.e. the movie covering the book's second half, hasn't scored the official green light yet, but Jon Spaihts is working on the script, and Warner Bros may be waiting to see how Dune does before deciding whether or not to move forward with the sequel. There is also a prequel series in development for HBO Max called Dune: The Sisterhood.
Dune is still slated to hit theaters on December 18, and be sure to scan through our 2020 release schedule to learn what other movies are supposed to arrive before the year is over.
Connoisseur of Marvel, DC, Star Wars, John Wick, MonsterVerse and Doctor Who lore. He's aware he looks like Harry Potter and Clark Kent.
Your Daily Blend of Entertainment News
Thank you for signing up to CinemaBlend. You will receive a verification email shortly.
There was a problem. Please refresh the page and try again.