Ant-Man And The Wasp Director Explains Why The Heroes' Partnership Is Important Ahead Of Third Film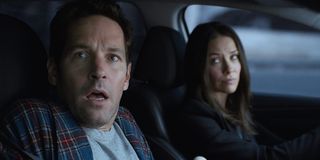 For decades, most comic book movies have been headlined by a single, male superhero, like Batman, Superman, Iron Man, Spider-Man, and, of course, Ant-Man; you get the picture. But for Marvel Studios, that shifted with Ant-Man and the Wasp, which highlighted a pair of superheroes. And according to director Peyton Reed, that partnership will continue to be important in Ant-Man 3.
Paul Rudd's Ant-Man and Evangeline Lily's The Wasp have formed quite the partnership in their franchise and the Avengers films. And as it so happens, that dynamic isn't about to end anytime soon. Director Peyton Reed spoke with Yahoo! Entertainment and gave us a little information about how that relationship is important and what it means moving forward. Needless to say, it looks like Ant-Man and the Wasp will continue to share the spotlight. Here's what he had to say about it:
As you may recall, Paul Rudd took the spotlight in Ant-Man as Scott Lang/Ant-Man, but Evangeline Lily's Hope Van Dyne played a key role in both training Scott Lang and aiding him and father Hank Pym in orchestrating their heist. An elevated role for Hope Van Dyne role was then alluded to in a post-credits scene in which we got to see the beginnings of her Wasp suit.
It wasn't until Ant-Man and the Wasp that Hope Van Dyne really took things into her own hands and started doing a lot more of the "hero work." And while some female Marvel characters have been able to shine in movies like Guardians of the Galaxy and Avengers, they haven't had many chances to get their own standalone movies. After Captain Marvel, Black Widow will only be the second female-led standalone movie in the MCU, when it eventually releases.
As for Ant-Man 3, there were some initial doubts that the movie would even happen but, of course, we now know it is moving forward. Sadly, like most movie projects right now, current events have delayed things for the film. But that doesn't mean Peyton Reed and his team aren't still working on the project. He later said:
It was announced earlier this year that Rick and Morty writer and producer Jeff Loveness will be working on the Ant-Man 3 script. This happened early in the Hollywood shut down, so he's had quite a bit of time to work on the script.
It'll be interesting to see how Ant-Man 3 progresses and how they'll further Scott Lang and Hope Van Dyne's partnership and romantic relationship. Though Evangeline Lily has said she doesn't want it, you have to wonder if Marvel would consider doing a Wasp standalone movie. For more movie news, stay tuned to CinemaBlend.
Your Daily Blend of Entertainment News
Thank you for signing up to CinemaBlend. You will receive a verification email shortly.
There was a problem. Please refresh the page and try again.