The Suicide Squad Director James Gunn Reveals Why One Wild Character Couldn't Make It Into The Movie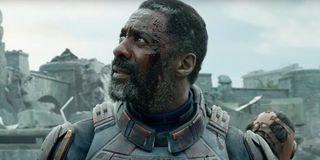 Thanks to DC FanDome, we now know what DC characters will comprise James Gunn's villainous team in The Suicide Squad, and it's a doozy. While some established folks will be present, like Margot Robbie's Harley Quinn, there are a ton of newcomers. And believe it or not, there were some characters that got cut, including one wild villain who was a bit too much to make it in the movie: Dogwelder.
I can't imagine how many characters James Gunn had to choose from for The Suicide Squad, but with villains like Polka-Dot Man and Peacemaker, you know James Gunn hit for the fences. Still, he recently revealed on social media why he didn't want to see make Dogwelder an appearance on the big screen. Check it out:
Yikes! Yeah, that makes a lot of sense. For those who aren't aware, Dogwelder's name pretty much sums up everything about him. The disturbed and masked individual spends his time trapping and killing dogs. Then, he takes those dogs and welds them to people's faces. As you can imagine, that might not go over so well with audiences.
Still, even without Dogwelder, after watching the behind-the-scenes footage, The Suicide Squad looks like it's going to be one wild ride with plenty of off-beat characters and crazy antics to sink our teeth into. I mean, just watching King Shark trying to swallow a guy whole was kind of nuts.
Of the many new characters involved in The Suicide Squad, we're getting Bloodsport (Idris Elba), Peacemaker (John Cena), The Thinker (Peter Capaldi), Polka-Dot Man (David Dastmalchian), Ratcatcher 2 (Daniela Melchior), Blackguard (Pete Davidson), Savant (Michael Rooker), King Shark (Steve Agee), Floyd "TDK" Belkin (Nathan Fillion), Weasel (Sean Gunn), The Javelin (Flula Borg), Mongal (Maylin Ng) and Sol Soria (Alice Braga). It also seems like the alien known as Starro might be involved.
All of those new characters are on top of many of the originals who showed up in David Ayer's Suicide Squad. With so many characters and the reputation of the comics, you better believe many of these characters aren't making it out alive.
While it's unclear what the main story will be about, at least from the recent footage, The Suicide Squad looks to be a mix of a 1970's war film, like Apocalypse Now with superheroes, and James Gunn's style and sense of humor. It's very clear that James Gunn's hands are all over this film, and according to him, there will be zero studio interference.
Even though James Gunn is mixing the old movie characters, and much of the DCEU, with these new characters, he made it clear The Suicide Squad is neither a sequel nor a reboot. Instead, it's like a mix of the two, which will be interesting to see how that plays out when it eventually lands.
The Suicide Squad is expected to release on August 6, 2021. For more movie news, be sure to tune in to CinemaBlend.
Your Daily Blend of Entertainment News
Your Daily Blend of Entertainment News
Thank you for signing up to CinemaBlend. You will receive a verification email shortly.
There was a problem. Please refresh the page and try again.