The Suicide Squad: 7 Questions We Have After The DC FanDome Footage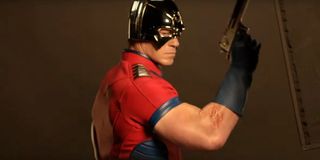 If there is one thing we can confidently say about The Suicide Squad videos released during the DC FanDome, it is that this new take on Task Force X is poised to be much different from David Ayer's 2016 blockbuster. In fact, the follow-up from writer and director James Gunn looks so fresh and unrecognizable that, for all the behind-the-footage revealed, there is much about it that remains a mystery.
Early on in the teaser, Idris Elba (who stars as Bloodsport despite previously replacing Will Smith as Deadshot) promises that audiences will walk away from The Suicide Squad wondering how James Gunn and company were able to pull off a lot of the action in the film. Well, until it hits theaters on August 6, 2021, we are less interested in the "how" than we are in the "what," the "who," the "where," and perhaps even the "why" of it all. For instance, why must we be forced to wait any longer to see this movie after bearing witness to such a mind-blowing display of comic book movie glory (or so we hope)?
While we can at least try to wait patiently for the answers, we cannot help but ask the many questions we have about this new supervillain extravaganza right now. The following are the seven biggest head-scratchers we have about The Suicide Squad footage at the moment.
How Does Harley Quinn Get Involved With The Suicide Squad Again?
Margot Robbie has hinted that The Suicide Squad will show a new side of Harley Quinn, but since David Ayer's Suicide Squad ended with Joker (Jared Leto) breaking her out of prison and Birds of Prey saw her, somewhat, embrace heroism, what led her to fight alongside bad guys again? Has reverting to her evil ways put her back in the big house and under Amanda Waller's (Viola Davis) control? Has Waller recruited her to help keep tabs on Task Force X this time? Or could Harley actually be the one they are fighting against? That last theory is probably the least likely, but it is a good segue to our next mystery.
Is The Military Fighting Against The Suicide Squad?
Based on certain implications in the behind-the-scenes footage, we would not be surprised to learn that the military has it out for Task Force X. Producer Peter Safran describes The Suicide Squad as a "gritty 1970s war movie," and the many sights of armed soldiers definitely supports that, but seeing the costumed crew taking heavy fire and John Cena's Peacemaker taking out several troops (whose uniforms do not look American) suggests they may not allies in this battle. It would makes more sense if the Squad are just pawns in a conflict between Amanda Waller and a country she targeted for some selfish reason, which brings up the next question.
Where Does The Suicide Squad Take Place?
While 2016's Suicide Squad had more of a centralized urban setting, it was a challenge to keep up with all the different locations the teaser showed glimpses of. We have heavy combat on a sandy beach, Harley Quinn dodging bullets in what appears to be a church, immense flooding in an antique control room, one slow motion shot in snow, and I am pretty sure I saw a few explosions in a modern day office building too. Whatever the plot of The Suicide Squad turns out to be is, it looks like Task Force X is in for one epic, globe-trotting adventure… unless they are not all fighting in the same place.
Is There One Giant Squad Or Separate Squads?
Like us, you may have been astonished by the size of The Suicide Squad cast, which includes 13 new faces joining returning players Harley Quinn, Amanda Waller, Captain Boomerang (Jai Courtney), and Col. Rick Flag (Joel Kinnaman). That is quite an upgrade from the previous lineup, but various locations and rare sightings of the whole cast together in one place could mean that the "The" in the title is really a misnomer and only one Task Force X is not enough this time. Even if our split-up Squad theory is true, maybe we should not concern ourselves just yet with who is on which team, as there is still little we even know about many of these characters, but there is one whose origin piques our interest.
Is Ratcatcher 2 The Daughter Of The Original Ratcatcher?
When the casting of Portuguese actress Daniela Melchior as Ratcatcher was announced, fans felt it was safe to assume that The Suicide Squad was incorporating a gender-flipped version of exterminator-turned-homicidal rodent authority figure Otis Flannegan. However, the reveal of the character name "Ratcatcher 2" along with a glimpse of what could be her younger self with Flannegan in the teaser hints that she may be more than just a successor to the villainous moniker. While there is no indication of Ratcatcher having a daughter in the movie, it would be not be the first time a few liberties were taken in a DC movie.
Who Is The Voice Of King Shark?
On the other hand, it appears that nothing has changed about King Shark, whom the aquatic humanoid creature is better known as. While we know for sure that comedian Steve Agee provides the motion capture performance of the character in The Suicide Squad, it is unclear who is providing the voice. If not Agee himself, considering we still do not know who Taika Waititi has been cast as, the possibility that the Academy Award-winning New Zealander is the voice of King Shark is not something we would be too quick to rule out.
Is Sol Soria Related To Juan Soria?
There is a slew possibilities in regards to Alice Braga's role in The Suicide Squad, save gossip of her Poison Ivy casting, as it appears that her role as Sol Soria is an original invention for the movie. However, a more knowledgeable DC fan may speculate that she is, like Ratcatcher 2 is rumored to be, either a gender-swapped version or relative of Juan Soria: a lesser-known character with a skeleton key hand who was eaten by Killer Croc not long after his first and last Suicide Squad mission in 2018. While it does sound somewhat unlikely as the reptilian beast is not confirmed to appear, it would be fascinating if SolSoria was seeking out Task Force X to find KIller Croc and avenge her father's death.
What do you think? Do any of these theories about The Suicide Squad sound plausible to you, or do you think we should watch the DC FanDome footage a few more times? Let us know in the comments and be sure to check back for additional information and updates on James Gunn's new take on Task Force X, as well as even more stories pondering what to expect from the most anticipated releases, here on CinemaBlend.
Jason has been writing since he was able to pick up a washable marker, with which he wrote his debut illustrated children's story, later transitioning to a short-lived comic book series and (very) amateur filmmaking before finally settling on pursuing a career in writing about movies in lieu of making them. Look for his name in just about any article related to Batman.
Your Daily Blend of Entertainment News
Thank you for signing up to CinemaBlend. You will receive a verification email shortly.
There was a problem. Please refresh the page and try again.