Robert Downey Jr. Shares Final Memory Of Chadwick Boseman From Infinity War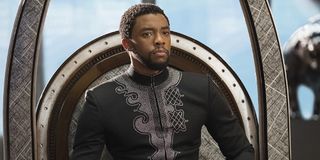 Since the announcement of Chadwick Boseman's tragic death at the age of 43, many have been in mourning, trying to grapple with the unexpected news. To honor Boseman, many celebrities, actors, directors, and fans have poured out tributes, support, and sympathy for the late actor and his family. Now, fellow Avenger Robert Downey Jr. has shared his final memories of the actor while they were working on Infinity War.
Robert Downey Jr., of course, played Iron Man in the MCU, and first worked with Chadwick Boseman on the set of Captain America: Civil War. But, it sounds like one of the lasting memories he had of Chadwick Boseman was on the set of Avengers: Infinity War when everyone was together, according to ABC News. Here's what Roberty Downey Jr. had to say:
Following the roaring success of Black Panther, which included breaking records and winning awards, Chadwick Boseman was indeed, king on and off the set. In a tweet that has now become the most liked tweet ever, it was revealed that he had been battling colon cancer for years, all while working hard on several film projects.
Robert Downey Jr., of course, isn't the only Avenger to pay tribute and share memories of Chadwick Boseman. Many more took to social media to express their feelings about his passing. On Twitter, Chris Evans said, "Chadwick was special. A true original." While Don Cheadle said about Chadwick "I will miss you, birthday brother…you were always light and love to me."
Though he was taken from us too soon and had so much more to give, Chadwick Boseman made an incredible impact in the industry with his performances. He portrayed many important historical figures on the screen, including Jackie Robinson in 42, James Brown in Get on Up, and Thurgood Marshall in Marshall.
Arguably it will likely be Black Panther that he is most remembered and will have the largest impact on the next generation. As such, Black Panther director Ryan Coogler gave an emotional tribute to Chadwick Boseman, remembering how it was Boseman's performance that inspired him to officially agree to take on the project.
Of course, this is just the tip of the iceberg of all the love pouring out for the late actor. And I bet there will be much more love and tributes in the years to come. Rest in power, King.
Your Daily Blend of Entertainment News
Your Daily Blend of Entertainment News
Thank you for signing up to CinemaBlend. You will receive a verification email shortly.
There was a problem. Please refresh the page and try again.