The New Mutants' Maisie Williams Had An Amazing Response To Bad Reviews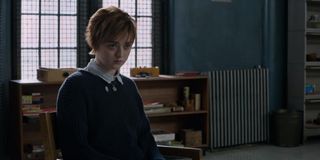 After waiting several years for The New Mutants to release, it's finally landed. And, sadly for X-Men fans, the reviews have been less than kind. Some have called it the "worst X-Men movie ever" and, as of right now, its Rotten Tomatoes critics score sits neatly at 35%, just a bit higher than Dark Phoenix. Despite that, Maisie Williams, who plays Rahne Sinclair, had a pretty amazing response to the bad reviews.
Actors, celebrities, and directors all tend to respond a little differently to bad reviews. Some aren't bothered by them while others have just stopped reading them altogether. In Game of Throne's Maisie Williams case, she decided to use it to her advantage to convince people to go see it anyway. Check it out:
I have to admit, this is kind of a clever way to get someone to watch your movie. After all, critics aren't always right. Plus, even if The New Mutants is as bad as they say, sometimes the worst movies can be the best movie-going experiences. It's all in how you look at it, right?
All around, The New Mutants is one of those movies that can't seem to catch a break. After several delays, cancelled reshoots, the Disney/Fox merger, and Dark Phoenix not doing well at the box office, it looked almost like a done deal that The New Mutants wasn't going to ever see the light of day. But luckily that wasn't the case.
But in a surprise twist, Disney announced earlier this month that they did have plans to release the movie. Lo and behold, the house of mouse followed through with those plans, releasing the Marvel superhero movie they inherited from Fox to the movie theater. On one hand it makes sense why they would want to put it out there, but considering the critical response the movie is receiving getting, the conversation is all the more complicated.
So, what are the critics saying about The New Mutants? For the most part, it's being criticized for being lukewarm and not standing out on its own. Cinema Blend's own Sean O'Connell reviewed the film and called it:
With reviews like that, I can see why some might not be jumping up and down to go see The New Mutants. Still, considering the dearth of new movies lately, Marvel fans might be hungry to see any new superhero movie in the theater, bad or not. Plus, there is a strong cast attached to the project.
If you're wanting to see The New Mutants, but plan to wait it out until it hits streaming, you might have to wait a while. It's unknown when, or if, the movie will land on Disney+ after it has its run in the theater. For more movie news, be sure to stay tuned to CinemaBlend.
Your Daily Blend of Entertainment News
Your Daily Blend of Entertainment News
Thank you for signing up to CinemaBlend. You will receive a verification email shortly.
There was a problem. Please refresh the page and try again.