Why Adam Sandler Stopped Reading His Bad Movie Reviews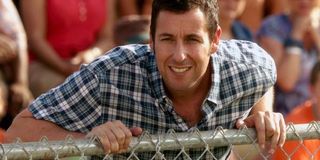 Adam Sandler is a man who makes a lot of money. He's also a man who has his hands in a lot of pots, as he acts in, writes and produces a good chunk of the movies he is involved in. However, he's not a person in Hollywood who is used to a lot of praise, as many of the comedies he is involved with have been panned by critics over the years. When he was recently quizzed by fellow actor Jennifer Lawrence, he explained exactly why he stopped reading reviews of his movies. The answer has to do with Billy Madison. He said:
Although Billy Madison came out in the age before review aggregators like Rotten Tomatoes, the site has still pulled up nearly 40 reviews for the movie and it runs around a 46%--which is not terrible, but it's not great either. Despite the lackluster critical feelings for the movie, Billy Madison is loved by the fans, spawning memorable quotes -- 'Stop looking at me, Swan!' -- and still getting watched by new generations of moviegoers. Jennifer Lawrence even mentions that a Billy Madison quote is one of her favorite quotes of all time, noting, "It's too damn hot for a penguin to be just walkin' around here," is something she blurts out anytime she's at the pool. So, there's no doubt that Billy Madison has left a lasting impression on audiences. There's also no doubt it left a lasting impression on Sandler, just maybe not in the way we'd guess, as it's why he no longer reads reviews for his movies.
Adam Sandler isn't the only celebrity to avoid reviews, whether they are negative or positive. Jennifer Lawrence also mentioned in the Variety piece that she hates reading interviews, and she recently had to deal with quite a bit of bad press when mother! came out earlier this year. She says she really tries to avoid reviews, too, because once the final product is out there, it's "out of [her] hands." Of course, Jennifer Lawrence has gotten a lot of good reviews during her career, as well.
Even if Jennifer Lawrence also avoids looking into what people are thinking, Adam Sandler reviews are a particularly special case. His movies are heavily watched and extremely popular, so much so that Netflix worked really hard to sign the actor, writer and producer on to a major contract with the subscription streaming service. I honestly think you would struggle to find an actor who is quite so popular and who has to take more crap about his (or her) movies on a regular basis, although I'm open to hearing about it if there is one. At least he seems to have had fun making Billy Madison, even if the critical consensus wasn't all that great.
Luckily, as Adam Sandler notes, he's at least been keeping tabs on his new movie with director Noah Bombach and actor Ben Stiller, The Meyerowitz Stories, and that film is doing well over at Netflix. People seem to like it, and we'll see if it gets any nods once awards season rolls around. Maybe then Adam Sandler might sit up and start paying attention. For now, take a look at what Netflix has coming up.
Your Daily Blend of Entertainment News
Reality TV fan with a pinch of Disney fairy dust thrown in. Theme park junkie. If you've created a rom-com I've probably watched it.